For our year-in-review, we provide the date of the edition that each story ran in as well as it's headline, followed by a brief synopsis of what the story is about. For full stories you can visit shoshonenewspress.com and search each headline.
JANUARY
Jan. 4 Save your fork, there's pie! — Mae's Market in Smelterville celebrates its grand opening on Dec. 21. Owner LeMae Prentice is thrilled to bring a new twist to the market that has operated in the town for many years.
Jan. 7 Airport shooter pleads not-guilty — Joshua D. Forrest pleads not guilty to charges of aggravated assault and discharging a weapon at an aircraft, stemming from an incident on July 17, when he reportedly abandoned his vehicle and trespassed onto Shoshone County Airport Land. At the time, wildland firefighters were using the airport as a staging area for operations.
Accusations leveled in RV PARK appeal — The BOCC presided over a public hearing on Jan. 5 regarding an appeal of the recent decision by the planning and zoning commission. P&Z approved a conditional use permit for a multi-space RV park near Burke Road in June.
Jan. 11 Lookout for Fourth of July — In Shoshone County, local officials and truck drivers warn of dangers on both mountain passes.
Jan. 14 Papa's Barn Plaza celebrates grand opening — Three businesses in Papa's Barn Plaza open in uptown Kellogg — Positive Practice, Tru Legacy Shaving Company and Slide Bite Armory.
KSD seeks applicants for board vacancy — Kellogg School District Board of Trustees began their search to replace Todd Sheppard for Zone 1.
Jan. 21 Accused arsonist maintains not guilty plea — Jamie Jones maintains her not guilty status regarding arson charges in Calder.
Jan. 25 A Giver's Heart — The 2021 Silver Valley Community Christmas Fund reported its best year in recent memory, raising $25,037, which is $4,000 higher than its goal for the year.
Jan. 28 Welch pleads guilty to wire fraud — Trina Welch agrees to a plea agreement with the United States Attorney's office in which she confessed to one count of wire fraud. Hired in 2012 as the chief accountant for Kasco, Welch stole approximately $3.6 million from the company over the course of six years.
FEBRUARY
Feb. 1 Bunker Hill purchases processing plant — Bunker Hill Mining company signs a memorandum of understanding with TECK resources limited for purchasing their Pend Oreille processing plant. The purchase allows Bunker Hill to construct its mill.
Base Camp Coffee, A Family Affair — Base Camp Coffee celebrates its grand opening on Jan. 28 near the gateway to the North Fork of the Coeur d'Alene River.
Feb. 4 Judge Duggan presiding… Judge Barbara Duggan was officially sworn in as the new district judge in the new judicial district on Feb. 2. Duggan replaced long-standing district judge Scott Wayman.
Feb. 8 Erratic Driving report yields fentanyl seizure, arrest — Christopher Garofalo was taken into custody on Feb. 4 after a citizen reported erratic driving on Interstate 90. Responding deputies discovered illicit substances in his vehicle.
Feb. 11 Oxendine appointed to Shoshone Magistrate Seat — Longtime Shoshone County prosecuting attorney Keisha Oxendine is appointed to the vacant magistrate judge position for Idaho's first judicial district. This seat was vacated by Barbara Duggan when she took the role of the district judge.
Let's go dancing — Lady Wildcats win 3A District One championship over Timberlake.
Feb. 15 A triumphant return — Lady Miners defeat Clearwater Valley for the District 1A Championship.
Miners Hat, Scout House added to Register of Historic Places — Kellogg fixtures were officially added to the Register of Historic Places for their unique architecture and history.
Feb. 18 Celebrating Coach John Drager — The Shoshone News-Press releases a special edition dedicated to the career and life of celebrated Mullan coach John Drager before his passing.
Feb. 22 Wrestlemania — Kellogg High School sends 12 wrestlers to the state championship along with one from Wallace, following the district tournament.
Feb. 25 Hearing held in Weyer Gulch Case — The Weyer Gulch road validation saga continued as Ryder Gauteraux and Chuck Jones petitioned it in hopes of getting the old forest road validated.
Neon Metals Bar sign — Metals Bar owners Jeremy and Katie Watterson recreate their establishments' historic neon sign in front of their bar.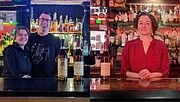 MARCH
March 1 Rapist gets 180 days in jail, probation — Gregory Ingalls is sentenced to 180 days in jail following a plea deal with out-of-county prosecution. Sheriff Gunderson voices his displeasure following the ruling.
Two in a Million — Richard Nearing and Dennis Styles become fast friends following battles with COVID-19.
March 4 ITD Targets Silver Valley bridges for replacement — Idaho Transportation Department crews begin their multi-year project of replacing bridges in Kellogg and Elizabeth Park on Interstate 90.
Pressed on Pine to open for customization needs — Ashlee Myles opens a custom print shop, Pressed on Pine, in downtown Wallace.
March 8 Allen sworn in as Shoshone County Prosecuting Attorney — Longtime deputy prosecutor Ben Allen gets bumped up to Prosecuting Attorney following Keisha Oxendine's appointment to the magistrate judge position.
March 11 Kellogg, Wallace, school levies pass by healthy margins — Seeing low voter turnout, the KSD replacement supplemental levy was passed with 66% of the vote. The WSD levy was also approved with 74.84% of the vote.
Lynn in, Hill out on WSD board — Despite being voted in on a previous board meeting the previous month, Joe Hill would not be assuming a role with the Wallace School Board. In part to a procedural violation. Educator Amy Lynn takes the position.
Doerschel comes back to her Wallace roots as new branch manager — Gina Doerschel is tapped to lead the new branch of Mountain West Bank in Wallace.
March 15 Back to back Belle of the Bartenders Ball — The Silver Corner Bar in Wallace takes top prize at regional bartenders competition in Coeur d'Alene while supporting animal care group.
Golden moment for Idaho Strategic Resources — Newly renamed North Idaho Resource company celebrates listing on New York Stock Exchange.
SVEDC names Olsen as new Executive Director — The Silver Valley Economic Corporation names Paige Olsen as their new director following Colleen Rosson's departure.
March 18 Let's talk mining — Representatives of the various mines throughout the Silver Valley speak at a special Silver Valley Chamber of Commerce after hours event on March 16.
KSD appoints new trustee — Kellogg School Board of Trustees appointed Chelsea Osterberg as their new trustee for Zone 2.
March 25 Copelan retires from Wallace Chamber — Longtime Wallace Chamber of Commerce Coordinator Dave Copelan retires from his role.
March 29 BOCC denies land vacation — Following a petition to the Board of County Commissioners to vacate a place of land near Potlatch Road in southern Shoshone County, the Commissioners decided to deny the vacation due to Buel Bros. Inc. having their initial petition handled unfairly.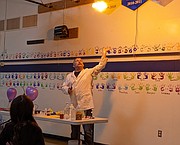 APRIL
April 1 Here come the Fightin' Hucks! — The Shoshone News-Press reports, in what many would say is a longtime coming, the three established school districts joined together — ushering in a new identity for the community as a whole. The Silver Valley community is overjoyed with the announcement and the new Huckleberry mascot. (April FOOLS)
Puppy Love Grooming Company opens in Kellogg — Hunter Jones opens her business Puppy Love Grooming Company on Feb. 14 to provide animal grooming services to the Silver Valley.
'Insufficient evidence' kills road validation — The BOCC denied a petition on March 29, to validate a portion of Weyer Gulch Road, due to a lack of evidence.
April 5 Jacob's back to her roots — Britney Jacobs added to Shoshone County Prosecution team.
April 8 BOCC to investigate property along St. Joe — Following the BOCC's decision to deny a petition to vacate or abandon a portion of land in Southern Shoshone County. County officials reexamine land claims.
April 12 Moon Pass tunnel to be fixed — Tunnel 34 on Moon Pass is damaged and cannot be used until repairs are made – barring travel between Wallace and the St. Joe region.
April 15 Crash into South Fork yields DUI arrest — Amanda Williford is charged with driving under the influence after crashing her Hummer into the South Fork of the Coeur d'Alene River with an infant passenger.
April 19 Ladies upstairs, downstairs — The Barnard Stockbridge holds the Spring Fling Season opening gala at the museum.
April 22 Disaster averted — Idaho Department of environmental quality springs into action after a tree falls and lands on a section of pipe that carries mine tailings from the Galena Mine to their disposal area.
April 26 Locals have strong showing at Leadman 2022 — The annual Leadman triathlon saw 281 participants come from as far away as North Carolina and Alaska.
April 29 BOCC denies Pine Creek validation — The BOCC shot down a petition by Paul Loutzenhiser and the North Idaho Trailblazers with the goal of getting the section of land annexed into BLM management.
Old Restaurant, New owners — Eric and Kippie Corta purchase the historic Sprague Pole Bar in Murray.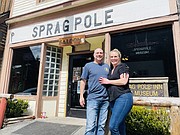 MAY
May 3 Fifty years later… The Shoshone News-Press dedicates an entire edition to the 50th anniversary of the Sunshine Mine disaster.
May 10 Passing the torch — Shoshone County Fire District No. 1 Captain John Miller is appointed the new chief following the retirement of Aaron Cagle.
May 13 Wildcat boys grit their way to district championship — Kellogg High School golf punches their ticket to state with nearly 20 consecutive years of district championships.
May 20 Local incumbents shine on primary election night — All of the incumbent county officials on the 2022 ballot defend their positions as they stave off challengers within their party, in the May 17 primary election.
May 24 KSD's talented drivers show out during bus rodeo — Dakota Malloux takes the top spot, finishing ahead of the other participating six drivers.
Saving King Silver — Silver Mountain officials discover a goat tied to a tree on Silver Mountain and begin the rescue.
Pinehurst PD gets their guy — Longtime Silver Valley Law enforcement officer John Richter is sworn in as the new Pinehurst Police Chief, replacing Tami Holdahl.
May 27 "Almost like they lose their will to live" — Old dance academy in Osburn is demolished.
May 31 Wallace and Mullan High School celebrate graduation ceremonies.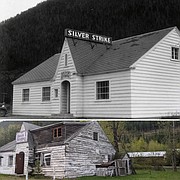 JUNE
June 3 Maverick awarded bid for Smelterville property — The BOCC approved an approximate $2 million bid from gas station company Maverick Inc. concerning a parcel of county land property. Questions over the bidding process arose.
Kellogg High School holds graduation ceremony.
June 7 "We are having a baby" — Casey Vincent participates in the miracle of birth near the bottom of Fourth of July pass.
June 10 Moon Pass open — Following damage to Tunnel 34 on Moon Pass, repairs were finally completed on June 9.
$10,000 reward offered in missing persons case — Family of Brian Shookman offer reward for information regarding his whereabouts. The reward has not been claimed.
June 14 Bordello Museum, is a labor of love — Historic Wallace fixture reopens under new management.
June 17 Silva found guilty of rape — 24-year-old Logan Silva is found guilty by a Shoshone County jury after pleading not guilty to rape in December 2020.
PES Principal Groves retires — Longtime Pinehurst Elementary Principal calls it a career after 21 years in education.
June 21 Gyro Ball makes 80th Splash — The annual Lead Creek Derby finishes with the ball making it's way from Mullan to Wallace in exactly 4 hours, 32 minutes and 52 seconds.
Foundation work underway for Teeter's concession stand — Construction crews began work at the new concession stand at Teeter's field.
June 24 BOCC signs new resolution for Ambulance District — BOCC signs a new resolution to help guide the newly created Shoshone County Ambulance Service District into the future.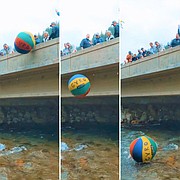 JULY
July 1 Arrest made in Smelterville Murder Case — Stephanie Paris was charged with murdering her boyfriend after Shoshone County Sheriff's Deputies conducted a welfare check at her home on Aug. 29 and discovered the boyfriend's body.
St. Maries shooting suspect arrested — The primary suspect in the Aug. 29 shooting in St. Maries was arrested in Calder.
Pinehurst Man charged in child abuse case — Sean Reed, 31, was arrested on Aug. 28 for multiple counts of felony injury to a child. Reed allegedly had abused a 3-year-old.
July 5 Ride with women on Silver Mountain — Local athlete Ella Erikson leads the ride with women event on Silver Mountain.
July 8 Claflin awarded Special Needs Aide of the Year — Kellogg School District's Tammy Claflin is awarded Special Needs Aide of the Year by the Idaho Association of Pupil Transportation.
July 12 Red Bull makes its pit stop in Smelterville — Red Bull Pit Stop Tour visited Walmart in Smelterville, offering free red bulls and a pit crew experience.
Former MSD Employee charged in battery case — Constance King was arrested for sexual battery of a minor child, 16 or 17 years of age.
July 15 Osburn mayor breaks tie allowing chickens — Chickens are allowed in Osburn! Following months of debate, Osburn ordinance No. 302 was passed by the Osburn City Council and Osburn mayor to allow chickens inside the city limits.
Not It — A particularly troublesome stretch of water on the North Fork of the Coeur d'Alene River had been responsible for several near-drowning incidents, and officials struggled to determine how/who should rectify the situation.
July 19 Wallace opens new dog park — After weeks of planning and working, the new Wallace dog park at the west end of the Wallace visitors center opened to the public.
July 22 Nobody wins with vandalism — Smelterville was forced to close the park after numerous incidents of vandalism and destruction.
July 26 Wallace celebrates first Silver Valley pride — The center of the universe was filled with every color of the rainbow during the first Silver Valley pride event on July 23.
July 29 Fitzgerald to resign next month — Shoshone County Commissioner Mike Fitzgerald formally submits his letter of resignation on July 14, beginning the process of finding his replacement.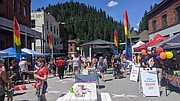 AUGUST
Aug. 2 Hot Cross Fun — Kellogg plays host to the annual Silver Hoops 3-on-3 Basketball Tournament. The event saw a 53% increase from the previous year.
Bush trimmers clean up at Mullan Fire Fest — Mullan once again hosted the annual Mullan's 51st volunteer firefighters' festival in the heart of town. This year's winners were the Bush Trimmers.
Aug. 5 Hope for the best, plan for the worst — Silver Hills Elementary in Osburn hosts a tactical emergency casualty care/rescue task force training event on Aug. 2 and 3. Numerous local agencies participated.
Aug. 9 BOCC approves $277K in ARPA monies — The city of Kellogg, Shoshone County Solid Waste and Shoshone County Fire District No. 1 all received funds through the $2.5 million Shoshone County allocation of the Coronavirus State and Local Fiscal Recovery Fund Program. The American Rescue Plan Act authorized it.
Aug. 12BASS GETS LIFE — Gregory Bass, who was arrested in January for charges of lewd conduct with a minor under the age of 16, was sentenced to life in prison.
Pinehurst takes back Miller Cup — After four years, the Pinehurst golf course wins the annual rivalry match against Shoshone Golf Club.
Aug. 16 Tapping in on the fun — Brews Fest. Silver Mountain celebrates 25 years of one of its biggest events on top of the mountain as organizers sold 1,200 tickets.
Lightning storms keep fire crews busy — Another round of lightning storms that recently pushed through the Inland Northwest was responsible for several wildfires kicking up across the local area.
Aug. 19 Hot Damn! — Festival back after hiatus due to wildfire. The Molly B Damn Festival was celebrated in Murray at the end of August.
Aug. 23 Silverton family loses home in fire — Emergency crews were dispatched to a structure fire in Silverton on Aug. 21. The structure was declared a total loss.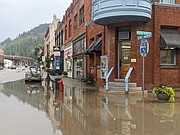 SEPTEMBER
Sept. 2 Smelterville park closed indefinitely — Another round of costly vandalism forces officials to close the Smelterville park.
Sept. 6 District 2 Officials agree on labor contract — Representatives with Shoshone County Fire District No. 2 and the West Shoshone Firefighters IAFFL2034 come to a close as the two sides agree on raise amounts, holiday pay, vacation time and living requirements.
Working Together — Mountain Valley of Cascadia and Silver Valley Christian Academy work hand in hand to install new playground equipment.
Sept. 9 Meet your new commissioner — Tracy Casady is appointed by Idaho Gov. Brad Little to fill the vacancy left by Mike Fitzgerald who retired in early August.
Sept. 13 BOCC hears appeal in West Fork, Pine Creek road situation — BOCC heard arguments for and against validating the West Fork on Sept. 8 on behalf of Paul Loutzenhiser and the North Idaho Trailblazers.
Sunshine Mine kicks off drilling exploration program — Following years of care and maintenance, Sunshine Mine employees kick off an exploration program to facilitate full operations.
Sept. 16 Summer of 63…1863 — Civil War reenactment held in Eagle City.
Here's to you, Skip — Skip Robinette is honored by the Shoshone County Sheriff's Office for his more than three decades of service in law enforcement.
Sept. 20 Water budget worries boil over — Cataldo Water District board members resign, budget rates increase, customers show concern.
Heavy Metals — Volunteer effort to clean the South Fork of the Coeur d'Alene River near Wallace yields nearly five tons of metal debris.
Sept. 27 WSD pays off 'new' school — After almost 20 years, the taxpayers within the Wallace School District pay off their $3.63 million bond for Wallace High School.
Sept. 30 Can you dig it — Wallace hosts Kellogg High School in its annual dig-pink night volleyball game.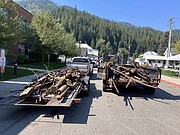 OCTOBER
Oct. 4 Chief Aamodt calls it a career — After 39 years in the fire service, longtime Shoshone County Fire District No. 2 Chief Mark Aamodt retires.
Oct. 7 Busy week at the courthouse — Richard Rogers Jr. and Logan Silva were sentenced to 15 years fixed, and 25 years respectively.
Kiwanis celebrates, inducts new leaders — The Silver Valley Kiwanis Club celebrated a successful year of fundraising while also welcoming Bridget Hojem and Bradon Thomas, Marcia Smith and Jennifer Stovern to the Kiwanis.
Oct. 11 Mountain West Cuts the Ribbon — Mountain West Bank opens a new branch in the historic downtown Wallace building.
TaTa for now — Annual Tata's Party fundraiser for the Shoshone Cancer Resource Center raises $19,000.
Oct. 21 BOCC denies appeal for road validation — BOCC decides not to overturn a recent decision concerning the validation of the West Fork Pine Creek Road.
Oct. 25 Cutting the ribbon at Lion's Park — The newly improved Lion's Park in Osburn officially opens for children on Oct. 21. The project is a culmination of community support and hard work from volunteer builders.
Oct. 28 Wallace hosts Gov. Little's Capitol for a Day Event — Idaho Gov. Brad Little, along with members of his cabinet, visit Wallace for a community outreach event.
Grand opening at Grocery Outlet — Grocery Outlet: Bargain Market opens its doors in Smelterville on Oct. 28.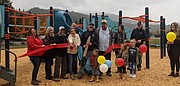 NOVEMBER
Nov. 1 Pottsville 7 put in the hours, host auction — Pottsville 7 hosted an auction to support their efforts with East Shoshone Park, previously known as Pottsville.
Nov. 4 Two arrested following stabbing — Nicholas Baur and Laurel Storey-Baur are arrested following a multi-agency investigation. Witnesses explained that the victim and his alleged assailant were assisting and moving items from a home, when a fight broke out.
Wildcat air raid heads south for playoffs — Kellogg Wildcat football punches ticket to state.
Nov. 11 Larger than expected voter turnout for midterm — GOP challengers win big in BOCC race. Incumbents John Hanson and Jay Huber replaced with Jeff Zimmerman and David Dose.
Lt. Col. Bertram W. McCauley: A legacy
Nov. 15 The best of us — Kellogg veterans gather for a ceremony.
Nov. 18 Gold Standard — Mountain Valley of Cascadia in Kellogg recognized as a recipient of the 2022 Gold Excellence in quality award for superior performance in long-term and post-acute care by the American Health Care Association and National Center for Assisted Living.
Nov. 22 A sense of comfort — Silver Hills Elementary School introduces newly designed space for sensory room.
Nov. 25 Kolar gets prison time at law day — Trevor Kolar receives a unified 20-year prison sentence after pleading guilty to sexual battery of a minor child, 16 to 17 years of age.
Nov. 29 Shoshone passes election audit with flying colors — Idaho Secretary of State's office conducts audit of Nov. 8 election in Shoshone County. Results show all ballots were accurate and accounted for.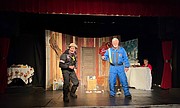 DECEMBER
Dec. 2 Christmas in a Barn — The Sixth Street Melodrama put on a Christmas Show, and was a smashing success.
Area seniors facing meal reduction — Silver Valley Seniors and Meals on Wheels received word that they would be reduced its delivered hot meals from seven times a week to five. Community gave support.
Dec. 6 Sheriff Gunderson retires — Sheriff Mike Gunderson retires due to health concerns, and reluctantly retires after 32 years of law enforcement experience, with six as sheriff.
Inland Iglu has launched — Local Eli Goodner creates winter wonderland.
Rehnborg in as Zone 2 trustee — Mary Rehnborg is appointed to the Wallace School District board for Zone 2 on Nov. 14.
Dec. 9 Holiday fundraiser rolls on — Silver Valley Community Christmas Fund is once again hosted at the Shoshone News-Press and sees tremendous community support.
Demolition of old Bunker Hill Mill underway — With the recent acquisition of new mill equipment, the Bunker Hill Mining Corp. demolishes the old mill building to make way for a new one.
Dec. 13 10-year sentence in child abuse case — Sean Reed is sentenced to 20 years in prison.
Lindsey selected as Sheriff — Longtime sheriff's deputy and undersheriff Holly Lindsey is appointed as interim sheriff following Mike Gunderson's retirement.
Dec. 16 PK Lions volunteers for 65 of service — Robert Fisher and James Bening are honored for 65 years of incredible volunteer service.
Dec. 20 Stutzke tapped for SCSO undersheriff position — Longtime detention deputy and captain Lance Stutzke is selected by newly appointed interim sheriff Holly Lindsey as undersheriff.
Dec. 23 Local kids Shop with a Cop for seventh year — The annual Shop with a Cop event provided 91 Silver Valley kids with a holiday shopping excursion to Walmart in Smelterville.
Beach Bum Bakery rolls into Kellogg — Rebekah Garvin and her family open an organic bakery in Kellogg.
Dec. 27 Fire destroys Wallace home — A fire rips through a Buena-Vista heights home in Wallace. Fire crews struggle to fight the blaze due to weather conditions.