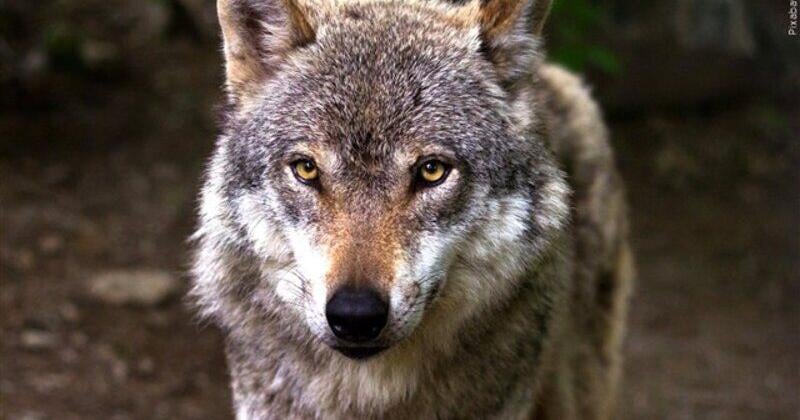 KLAMATH COUNTY & PORTLAND, Ore. — Three wildlife conservation groups are adding $10,000 to a reward for certain information about an Oregon wolf killed illegally last fall in Klamath County.
The Center for Biological Diversity, Oregon Wild and Cascadia Wildlands today announced a $10,000 reward for information leading to an arrest and conviction for the illegal killing of a collared male grey wolf in Klamath County.
On October 6, 2022, a male grey wolf known as OR103 was found dead near Upper Klamath Lake.
The U.S. Fish and Wildlife Service (USFWS) already was offering a $5,000 reward for information leading to the arrest of the person(s) related to the death of the federally protected grey wolf in southwest Oregon.
Killing a federally protected grey wolf is a violation of the Endangered Species Act; the grey wolf is an endangered species in the western two-thirds of Oregon.
OR103's death is being investigated by USFWS and Oregon State Police. They invite people with information about this case to call USFWS at (503) 682-6131, or Oregon State Police Tip Line at (800) 452-7888. Callers may remain anonymous.
The illegal killing of wolf OR103 was reported publicly by the U.S. Fish and Wildlife Service December 15. The Oregon Wildlife Coalition and conservation partners have a standing reward offer to assist in prosecutions of illegal wolf killings. This $10,000 is in addition to a $5,000 reward offered by USFWS, for a combined reward offer of $15,000.
The wildlife coalition says federally protected Oregon-born OR103 was caught unintentionally in the winter of 2021 by a U.S. Department of Agriculture Wildlife Services trap the agency had set for coyotes in Deschutes County and, "After being radio-collared and released. OR-103 exhibited a severe paw injury likely caused by the trap. He dispersed to California, where he remained until returning to Oregon last July."
Its return to Oregon got the lone wolf an "area of known wolf activity" declaration last summer.
The wildlife coalition says OR103's injury hampered its ability to hunt wild prey, "and he instead preyed on a number of livestock, which are much easier to hunt." Upon returning to Oregon, OR103 was listed by Oregon Department of Fish and Wildlife as being responsible for at least five livestock deaths in August and September 2022 before its own death was discovered early October.
"OR-103 didn't deserve to die like this, and I hope the people who know what happened will do the right thing and come forward," said Amaroq Weiss, senior wolf advocate at the Center for Biological Diversity. "Vigilante-style killings of wolves are both morally wrong and illegal."
The coalition notes OR103's death was "the fifth known wolf poaching in Oregon in 2022. It followed the gruesome illegal poisoning deaths of multiple wolves in 2021 in the state's northeast. Eight wolves from four different packs, including all members of the Catherine Pack, were poisoned in neighboring Union County, in incidents between February and July of 2021."
"Oregonians value native wildlife as well as justice and that's why we have such generous rewards for the poaching of wolves and other species," said Danielle Moser, wildlife program manager for Oregon Wild. "We want poachers of all species to be looking over their shoulders and wondering who is going to turn them in."
"Poaching is a serious crime that undermines science-based wildlife management and disrespects people and wildlife alike," said Bethany Cotton, conservation director for Cascadia Wildlands. "We ask the public to call Oregon's TIP line with any information they may have to ensure accountability, and we ask both federal and state officials to aggressively investigate and prosecute those responsible."
The coalition says, "Over the past 22 years, at least 34 wolves are known to have been illegally killed in Oregon, and two more were found dead under mysterious circumstances, according to authorities. At least three of these wolves, including OR-103, were found dead in Klamath County and at least one in neighboring Lake County. Arrests and convictions have been made in only three of the 36 deaths."
It says, "At last count, Oregon had a minimum of 175 wolves. Following a significant increase in poaching, Oregon's 2021 wolf count showed the state's wolf population grew by the lowest percentage (just over 1%) since wolves naturally returned to the state. The 2021 minimum population of 175 wolves increased by just two animals from the 2020 minimum count of 173. The 2022 population count is expected in April."
The Oregon Wildlife Coalition includes the Center for Biological Diversity, Oregon Wild, Cascadia Wildlands, Portland Audubon, Defenders of Wildlife, the Humane Society of the United States, Humane Voters Oregon and Western Environmental Law Center.
The additional conservation partner contributing to this standing reward offer is Speak for Wolves.