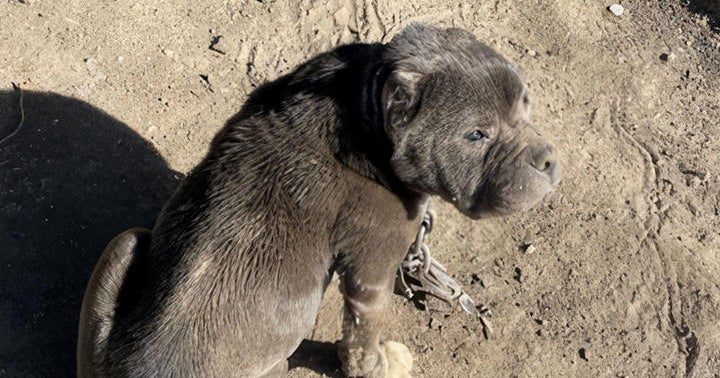 MONTEREY — A $1,000 reward was being offered for information leading to the arrest and conviction of those responsible for abusing a dog found with a chain embedded in its neck this week in Monterey County.
The gray pit bull was spotted on by a Good Samaritan in a field off Gonzales River Road in Gonzales, according to the SPCA for Monterey County.
SPCA staff offered treats to the frightened dog and managed to catch him so he could receive emergency care.
The embedded chain around the dog's neck had caused pain, swelling, and a serious infection.
SPCA veterinarians performed emergency surgery to remove it, and clean, treat, and suture the dog's wounds, which were 3 to 5 centimeters wide.
The dog, named Hastings by SPCA staff, is emaciated, has pressure sores on his legs, and his ears are cropped almost all the way to his skull, a procedure that apparently was not done by a veterinarian, according to the SPCA.
Hastings, about 3 years old, was very dirty and covered in fleas, but a soothing, warm bath removed fleas, caked-on mud, and feces.
"We hope this reward will inspire someone to come forward with information," said Jacob Duarte, SPCA Humane Investigations Supervisor. "This poor dog was suffering, and had been in pain for quite some time. Our goal is to find the person responsible so this never happens again."
If caught, the owners of the dog could be charged with animal cruelty, willful abandonment of animal and permitting animals to go without care.
Anyone with information about the dog is asked to contact the SPCA at (831) 373-2631. All calls are confidential.
To donate to help rescue abused and neglected animals, call the SPCA at 831-264-5421 or donate online at www.SPCAmc.org.