MILLCREEK — The owners of a house in Millcreek are offering a $1,000 reward amid fears a group of suspected burglars may be targeting other vacation rental properties.
On Jan. 22, surveillance cameras captured a silver minivan appearing to case the rental around 10 a.m. and then leave, only to have the vehicle reappear in the driveway around 12:30 p.m.
At that point, reservationist Lexi Peters said three unknown people from the minivan entered the house and somehow disabled the alarm and cut power to the cameras.
"After that, actually, our housekeeper showed up just to do some extra cleaning from the owner," Peters explained. "They were there a few days before and the house looked different."
Though Peters said the site was secured again and the alarm system was reset, the home was burglarized later that night.
"That is when they stole and took merchandise and property from the home, the garage and kind of just ransacked everything," Peters said. "Whatever they thought was important or of value they took with them."
Peters said the burglars left with roughly $20,000 in property, including a trailer.
"My hope is I want to catch these guys and I want to find out who it is," said Brad Winget, president of the Utah Vacation Rental Managers Association.
Based on the group's level of sophistication and determination, Winget feared they may have targeted or may be targeting other vacation rentals in the area.
"They were shuffling through what seemed like multiple papers that could have been multiple rentals that are furnished," he conjectured.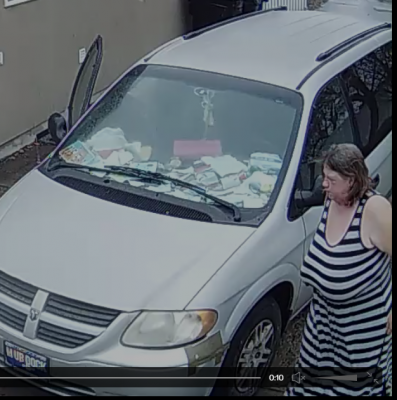 He said he didn't want to see other owners and property managers fall victim.
"We feel like sitting ducks, and these people think that they can game the system, you know?" Winget said. "It's time for us to fight back."
Per the surveillance images, one man appeared to have dark hair and was wearing blue jeans and a black hoodie that had a broad white stripe that ran from the neck down to mid-sleeve.
A woman who entered the home from the back was also seen in the video wearing a sleeveless, black-and-white horizontal-striped long dress.
A third man was also recorded apparently approaching the front door. He was wearing a dark hoodie and a red-brimmed, gray cap.
Peters noted that the gray minivan had a plate and numerous other papers and items cluttered on the front dash and a Murdock sticker in the space where a front license plate would go.
"This car is pretty recognizable," she said.
Winget said the homeowners are offering a $1,000 reward for information leading to arrests in the case.
He said anyone with information should call Unified Police Department at 801-743-7000.
×
Photos