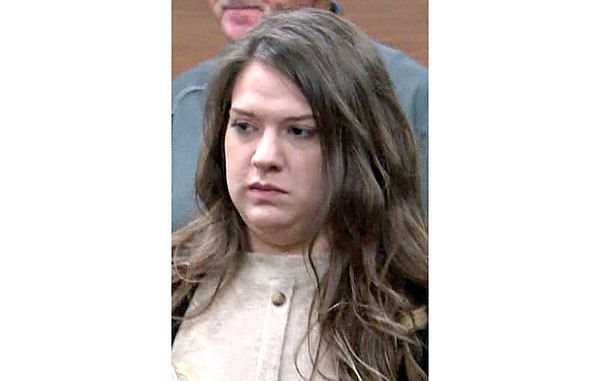 NEW BOSTON, Texas — Taylor Rene Parker has been found guilty of capital murder in the death of Reagan Michelle Hancock and her infant daughter, Braxlynn Sage Hancock.
VIDEO: Family member speaks after Taylor Parker verdict
After three weeks of often graphic and emotional testimony from more than 60 witnesses, it took the jury of six men and six women about an hour Monday morning to reach its verdict.
The jury presented its verdict to Judge John Tidwell, who read it to the court. Tidwell then asked each juror if the verdict reflected his or her decision, and each replied, "Yes."
As the verdict was read, Parker's face showed no emotion.
The jury started deliberations at 10:22 a.m. after closing statements from the prosecution. The verdict was returned about 11:25 a.m.
—-
PODCAST: Gazette reporter Lori Dunn comments on the trial so far, now that the verdict is in.
—–
Defense attorney Jeff Harreslon has argued Braxlynn was never alive and moved to dismiss a kidnapping charge, which would lower the charge of capital murder to murder.
In closing statements, First Assistant Bowie County District Attorney Kelley Crisp argued the case is capital murder and that several medical professionals had testified Braxlynn had a heartbeat when she was born.
"We have methodically laid out what she (Parker) did, why she did it, all the moving parts, and all the collateral damage. The best evidence the state of Texas has that baby was born alive is that Taylor Parker said it wasn't," Crisp said.
Crisp asked the jury to value Reagan and Braxlynn Hancock's lives enough to make the right decision.
"Y'all decide the boundaries of today. What will we tolerate? Is it open season on expectant mothers? That was a live baby."
Crisp said the lives of Reagan and Braxlynn had no value to Parker.
"But they have value to us, and I think they have value to you," Crisp told the jury.
Assistant District Attorney Lauren Richards called Parker an actress.
"Taylor Parker played every role, every act … putting on a show to keep Wade Griffin. She played a farm girl, wanting to the do the right thing with her family land. She played a millionaire heiress … she played a pregnant girlfriend. She never gives up the act," Richards said. "And she was so convincing that reasonable people start to doubt their own sanity."
Richards' closing arguments focused on Sept. 16, 2020, as a pivotal date in Parker's performance.
"In the middle of a performance of a lifetime, with her fake pregnancy, her ex-husband sends an email t0 Wade Griffin that it's all fake. To Taylor it was a threat that she would be outed as a liar and exposed for what she is. She would lose face, and Taylor Parker doesn't lose. It was from that day forward, that Sept. 16 date, that she was in a frenzy to find a baby."
Richards recalled the "bloodletting that went on in that house," and the autopsy findings of scalpel found in Parker's neck. She reminded the jury of how Reagan was beaten in the head at least five time with such force that the blows compressed her skull into her brain.
"The pain Reagan must have felt when Taylor started cutting her abdomen hip to hip … indescribable," Richards said.
"When Taylor had the baby and Reagan was still alive, that's when Taylor started slashing and cutting. She can't leave her alive. It was no quick death. She just kept cutting her. I guess Reagan would not die fast enough for Taylor to get out of there and get on with her plans," Richards said.
In his 10 minutes of closing arguments, Harrelson argued Braxlynn was not born alive and therefore the kidnapping that elevates the murder charge to capital murder cannot apply.
"That's why in opening statements we spent so much time on definitions. You can't kidnap a person who has not been born alive," Harrelson said to the jury.
He urged the jury to be fair.
"We knew it's going to be a complicated case and an emotional case. It's natural to have an emotional response … It's in your instructions you can believe all or any part of the testimony," Harrelson said.
The punishment phase of the trial starts Oct. 12. The jury will hear testimony intended to help them make a decision on whether Parker receives the death penalty or life in prison.
Parker also is represented by Mac Cobb of Mount Pleasant, Texas.
After the verdict was read and court dismissed, Reagan Hancock's aunt, Jamie Mason, expressed appreciation to the jury for its verdict and the state's case against Parker.
"We thank them so much. We prayed this would be the verdict, but please pray for the family, because it's still a hard time," she said.