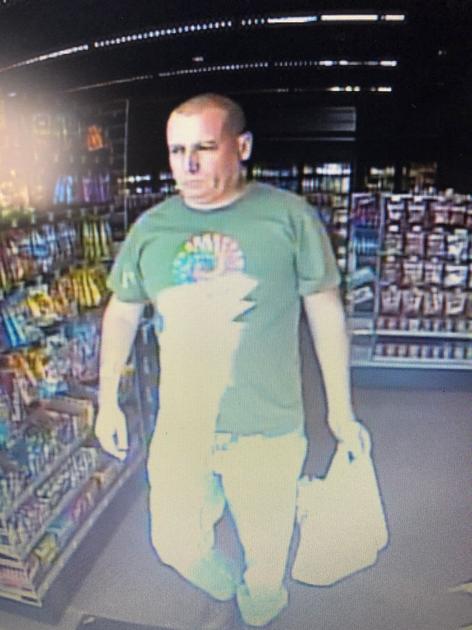 A $5,000 reward is being offered for information on the disbarred Smyrna attorney accused of fatally stabbing his 77-year-old mother after he missed a deadline date to surrender to authorities and begin his jail sentence.
The U.S. Marshals Service over the weekend released a gas station surveillance photo of 44-year-old Richard Merritt taken the evening of Feb. 1 north of Atlanta, but his possible whereabouts remained unknown Monday. He is wanted by DeKalb Police for allegedly killing Shirley Merritt Feb. 2 at her Stone Mountain home.
"We've got a bunch of tips from basically all over the country where people think they saw him, but nothing has been confirmed yet," said Frank Lempka, supervisory inspector for the U.S. Marshals Service. "He's dangerous, and could be reaching out to people he knows or has even known from years ago."
Merritt admitted last month to settling some of his clients' lawsuits without telling them, forging their signatures and keeping their settlement checks, according to Kim Isaza, spokesperson for the Cobb District Attorney's Office.
After pleading guilty to theft, forgery and elder-exploitation charges related to crimes committed against 17 former clients, Merritt was sentenced by Cobb Superior Court Judge Robert Flournoy III to 30 years with 15 to serve in prison and the rest on probation, and ordered to pay $454,706 in restitution.
But instead of having him taken into custody immediately, Flournoy granted Merritt's request for time to "get his affairs in order" before going to prison, Isaza said, giving him until 5 p.m. on Feb. 1 to turn himself in.
Though Merritt's cousin drove from Alabama to take him to the Cobb jail on Feb. 2, one day after he had agreed to turn himself in, the cousin arrived to find Shirley Merritt dead at the bottom of the basement stairs with lacerations to her side, according to a DeKalb police report. Investigators discovered what appeared to be the handle of a steak knife next to the woman.
"If you kill a close family member like that, what's going to stop you from killing anyone else?" Lempka said.
Merritt also has removed his ankle monitor before fleeing, authorities said.
Merritt was last seen driving a silver 2009 Lexus RX350 with a Georgia tag CBV 6004. Authorities believe he may have shaved his head or otherwise changed his appearance, and should be considered armed and dangerous.
For more information, contact the Southeast Regional Fugitive Task Force at 770-508-2500. Tip information may also be called in to the U.S. Marshals at 1-877-Wanted-2 (1-877-926-8332) or email usms.wanted@usdoj.gov.
Information from the Associated Press was used in this report.