A Radford jury on Thursday convicted Andrew Jonathan Byrd of murdering a 2-year-old girl in 2020 — and also of assaulting her mother, then Byrd's girlfriend.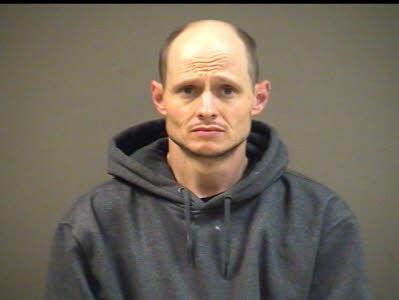 The guilty verdict included convictions for possessing methamphetamine and for Byrd preventing his then-girlfriend from calling for help for her daughter.
The jury decision came soon after 10:30 p.m., after five and a half hours of deliberation and on the fourth day of a trial in Radford Circuit Court.
Byrd was not sentenced Thursday. Judge Joey Showalter scheduled a hearing for June 5 to impose a punishment.
On his most serious conviction, aggravated murder, Byrd faces an automatic life sentence.
Byrd, 36, was arrested after the battering of toddler Harper Mitchell at Byrd's Radford home, which he shared with Harper's mother, Amanda Mitchell.
Harper's many injuries were described Thursday in more than two hours of testimony by medical examiner Dr. Amy Tharp.
Guiding jurors through more than 100 pictures taken during an autopsy, Tharp likened the wounds to those seen in car accidents. She said there were just too many, on all sides of the girl's head and down her back, than could have occurred accidentally.
Some of the wounds were in patterns consistent with knuckles, Tharp said.
The cause of Harper's death was blunt force trauma to the head, Tharp said.
An autopsy could not determine exactly when the injuries were inflicted but the lack of healing placed them within about four days of Harper's April 19 death in a hospital, Tharp said.
Investigators said Harper's injuries occurred during the eight hours on April 16 that Mitchell was at her job as an intake clerk at New River Valley Medical Center. Byrd was alone at home with Harper and Mitchell's two young sons.
When Mitchell discovered late that night that Harper was bruised, limp and cold, Byrd refused to let her summon help — taking her phone, hitting and strangling her, Mitchell testified. Byrd threatened to kill her and the children, in addition to police who came to the house, she added.
In the early morning hours of April 17, Mitchell did get her phone and called Byrd's mother, who called 911 as she rushed to the house.
Byrd stayed inside as Mitchell and her daughter were rushed to medical care. At the hospital, Mitchell told police that she had been assaulted and a SWAT team arrested Byrd.
Besides aggravated murder and drug possession, Byrd was found guilty of aggravated malicious wounding, abduction, assault and battery, child abuse or neglect that results in an injury, and interfering with an emergency call.
Jurors found him not guilty of two firearms charges.
Byrd's attorneys, Lindsay Phipps and Kim Sharp, both of the public defender office in Pulaski County, pointed out inconsistencies in Mitchell's various statements to police and noted that no one had seen Byrd hit Harper. They called the prosecution case "wild theories."
Byrd did not testify himself, though several recordings of police interrogations were played by the prosecution. In those, Byrd denied harming Harper.
He was less definite about Mitchell, saying at one point that if she was bruised, he must have done it, and at another that he had not struck her with a closed fist.
In the recorded questioning and in phone calls, also recorded, that he made from jail to friends and relatives, Byrd gave multiple, shifting explanations for Harper's fatal injuries. He said that Mitchell told him that her daughter suffered a concussion in a fall from a parked four-wheeler, or from a tumble from a shopping cart in Walmart, or both — but the times given for these accidents was outside what Tharp said was possible.
Byrd told officers that Harper had seemed sick all day, but also told them that she had been doing fine up until the end of Mitchell's work shift. He told officers midway through one interview that he had suddenly recalled that at some point on April 16, Harper's shirt was covered in blood and he'd put a clean shirt on her. She had bitten her lip, he told police.
Byrd speculated that Harper tumbled down stairs or was hurt playing, but agreed that he had been with her throughout that day and said that he had not seen the sort of massive injuries that killed her. He said that he was afraid that Mitchell harmed her daughter and was trying to frame him, but gave no account of seeing Mitchell do anything to hurt the girl.
Christopher Fackler, who was held in a jail cell near Byrd in 2020, testified that he and Byrd talked during long nights and Byrd worried that Harper got into Byrd's stash of meth.
The defense called only two witnesses — Radford detectives Carla Cross and Austin Cox, both of whom had testified extensively to build the prosecution's case. The defense brought the officers back on the stand for perhaps a total of 10 minutes, asking a few detail questions that did not seem to alter their conclusions about Byrd's culpability.
Commonwealth's Attorney Chris Rehak's closing argument, delivered with characteristic emotion and swagger, was that while there were no eyewitnesses, all the evidence pointed to Byrd — and Byrd's own stories did not make sense.
Rehak called the defendant a bully, a coward, and a child killer, then sarcastically referred to him as babysitter of the year.
Then as the defense asked jurors to look for reasonable doubt and choose acquittal, Rehak brushed something on his table and triggered a recording — already played repeatedly Thursday — of the defendant screaming, "I done it" in a jail recording that boomed through the courtroom.
Rehak quickly cut it off, saying, "My bad" as court bailiffs tried to keep straight faces.
Describing the loss felt by Harper's family and friends, Rehak had to stop twice as his voice broke.
Earlier, Thursday, Rehak and Tharp noted that Harper lingered in a hospital for three days before relatives stopped life support.
Tharp said that the child's organs were donated. Her liver and kidneys "are out there somewhere in the world living and functioning," Tharp said.
Byrd still faces additional child abuse charges connected to Mitchell's other children. Mitchell herself is scheduled to appear in Radford Circuit Court in June on charges of child abuse and cruelty, and drug possession.