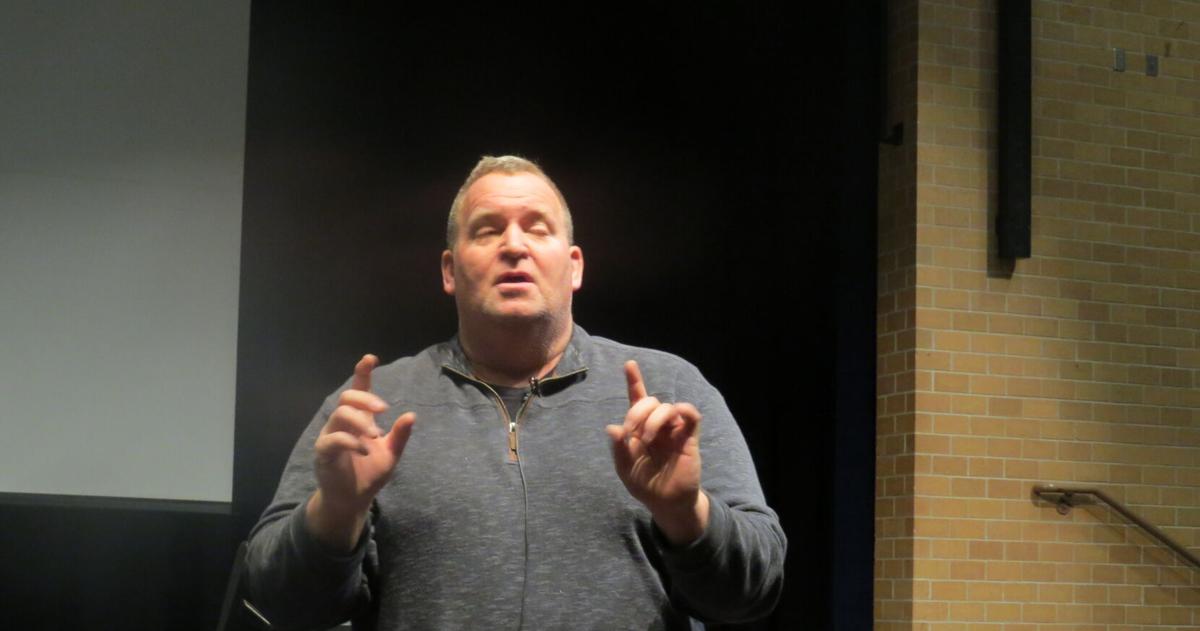 Beatrice Public Schools welcomed teachers and staff back from holiday break on Wednesday morning with a pancake breakfast and a motivational speaker.
Dr. Mike Lucas is the Superintendent at Westside Community Schools in Omaha and brought a message to BPS staff.
Beatrice Superintendent Jason Alexander introduced Lucas, noting that he is all about positive energy and creating opportunities for kids in our schools.
Lucas said his goals for the day were to make the staff laugh, think and appreciate the opportunity that educators have every day. He said he also wanted to get them excited for the semester ahead.
Lucas joked that he grew up in LA.
"That sounds cool, but LA to me means lower Alabama."
He said his hometown of Ocala, Florida was a rough place and he grew up in a single parent home with a mom that experienced mental health issues as a result of trauma.
"It was chaotic, but we didn't know any different. Momma loved us though. If your momma loves you, you have a chance to be successful. She did the best she could do."
Lucas said he had significant challenges throughout school and was never a threat to the honor roll. He described four educational heroes in elementary and high school that he talked about during his presentation.
"Mrs. Tanner was a 6'1" tall black woman who had 28 students in her first grade classroom. She consented one day in early September that one of those students was feeling out of sorts."
She told him she loved him, she believed in him and that he was smart.
"We are going to have a great year."
Lucas described a para, Mrs. Wingate, that was an educational hero in the 4th grade, a scary 6th grade teacher, Virginia Stairett, and a coach in high school that made a difference in his life.
"There is no doubt that Coach Yancy changed my life. He saved my life," he said. "I would not be standing in front of you today if it were not for Coach Yancy."
"You are a hero to students in your classrooms. You may not know the impact you make on your students but you provide stability, consistency, hope and love."
Lucas said today's fifth graders will retire in 2078.
"They will not remember that you taught them long division, but they will remember how you made them feel in 2078," he said.
"Education is exhausting, but it is also amazing and we get to do amazing things."
He noted that educators are the greatest economic development in a community.
"Every profession have horrible "have to's". In education, we have a lot of "get to's". We get to change lives. You get to make the community of Beatrice better."
Teachers met in professional learning communities and worked on Wednesday. Students return to classes on Thursday at Beatrice Public Schools.