Today we're going to tell you about a hero among us and some other folks who have been doing good things.
A life saved. William "Cale" Bass lives out near A.T. Allen Elementary School and struggles with a few health issues. On one of these cold recent nights about 11 p.m., he tried to roll out his garbage container for pick-up the next morning. He fell and couldn't get back on his feet.
Mr. Bass was on the ground a long way from his house. He tried rolling up his gravel drive and made it maybe 150 feet.
"I didn't know what I was going to do. Then an email popped up on my Apple Watch," Bass said. "I figured out I should be able to make a phone call."
He called his neighbor for help. The neighbor was in New Orleans but knew exactly who to call – Cabarrus County Sheriff's Deputy Craig Carter. Well actually the neighborhood called Craig's wife, who was in Atlanta with a school field trip and then she called Craig.
"He was there in two minutes," Bass said. "I know he had to be in bed but jumped up and came to help me even though he had to go work the next morning."
Deputy Carter helped Mr. Bass back inside then stayed with him long enough to clean up the cuts and scratches from rolling in the gravel and the fall.
"He may have saved my life. I could have died from hyperthermia had I been out there much longer. He went above and beyond the call of duty," Mr. Bass said.
Carter said any one of the neighbors would have helped had they been there. "I thank God I was there. He was pretty cold and it wouldn't have been good to be out in the cold much longer."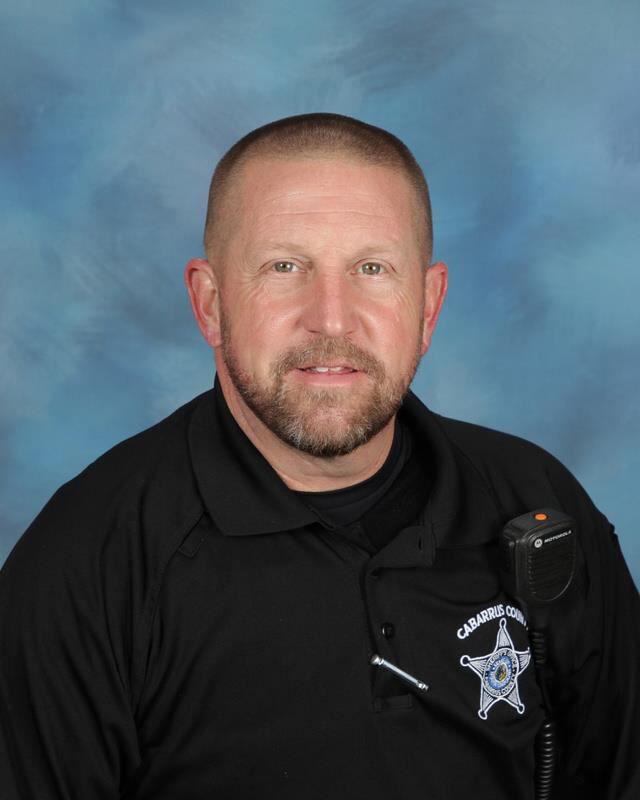 A little more about Deputy Carter. Carter serves as the school resource officer at Harrisburg Elementary School and also as the Mount Pleasant High School softball coach.
"It keeps me young. I love working with these kids and helping them enjoy being in school and playing sports," Carter said Thursday.
This is a second career for Carter. He served in the U.S. Air Force and then retired a couple of years ago from the N.C. Highway Patrol, after 28 years of service.
Here's a statement on Carter's bio on the Harrisburg Elementary website: "I promise to be a positive role model for each student and to serve with Respect, Integrity and Dignity each and every day."
Kudos to you Deputy/Coach Carter. It's great that we have people like you serving in our community.
Another outstanding student. A few weeks ago we told you about a student who had been accepted into a bunch of colleges and universities. Well we've got another to tell you about today.
Aniya Richardson, a senior at West Cabarrus High School in Concord has received acceptance letters from 28 colleges and universities, including Penn State, Clemson, the University of North Carolina at Greensboro, Spelman College, Howard University, and more, according to her parents.
Around $2 million has been given to Aniya in scholarship offers overall. Aniya has a high school GPA of 4.2 and has received an A in each and every course she has taken since the ninth grade, with the exception of a B she received in a World History Honors class her first year.
Aniya will graduate among tops of her class and is a highly qualified freshman recruit for colleges in the class of 2027.
Aniya has musical talent in addition to her scholastic prowess; she taught herself to play the saxophone, the guitar, and the piano. She is a color guard co-captain for the team and a member of the West Cabarrus Marching Band. Aniya, a member of the West Cabarrus Chorus, has acted as a mentor for the Cabarrus County Health Alliance.
She works part-time at her neighborhood store when she is not taking part in school activities. Traveling with her family, taking part in and visiting theater plays, singing, acting, and playing her instruments were a few of Aniya's interests. Aniya desires to specialize in pediatric oncology.
She also has a gofundme to fund her college expenses under Aniya the Scholar.
Congratulations Aniya. Keep up the great work.
A new face at the Visitors Bureau. The Cabarrus County Convention & Visitors Bureau recently welcomed Julie Henderson as Administrative Manager. In this role, Henderson will provide administrative support to the organization's leadership team and serve as liaison to the CVB's Board of Directors.
"We're happy to welcome Julie to the team and look forward to the ways in which her skills and experience will contribute to the progress of our organization and tourism industry," said Cabarrus County CVB President and CEO Donna Carpenter.
Prior to joining the Cabarrus County CVB, Henderson's professional experience included serving as Recreation Activities Intern with Marriott Vacations Worldwide for Ocean-Watch Villas at Grande Dunes and Sheraton Broadway Resort Villas in Myrtle Beach, SC. She also held the roles of Spa Receptionist at Ritz-Carlton Spa in Charlotte and Costuming Assistant with the Disney College Program at Walt Disney World in Orlando, FL.
Henderson graduated from Appalachian State University in May 2021 earning a Bachelor of Science in Recreation Management with a Concentration in Commercial Recreation and Tourism Management, and a minor in Hospitality and Tourism from ASU's Walker College of Business. In December 2022, she graduated from the University of Florida with a Master of Science in Hospitality, Tourism and Event Management.
My two cents on the Barber-Scotia situation. Concord City Council issued a statement Thursday on working with Barber-Scotia College and disbanding the community task force.
As someone who has been watching this situation from the outside for years, it appears to me the leadership of the college has their heads stuck in the sand and believe the college can rebound.
I've said this before and will say it again, short of someone winning the Powerball and donating the money to Barber-Scotia, the current mode of operation is doomed to fail.
You cannot operate with so few students (honestly I question whether there are any students at all).
The competition is accredited and has more resources. A new plan is needed and local leaders have waited 20 years to give the college a chance to develop a plan. No plan is coming.
If Barber-Scotia's appeal for tax except status fails, we might soon be seeing some of the property auctioned for the tax bill. That will be a long a painful process.
It is also likely some of the buildings will be demolished and the bill sent to Barber-Scotia, as was the case with the dorms over on Corban Avenue. The City of Concord still has not been paid the more than $300,000 that cost.
The hole for the college will get deeper. The best bet for success appeared to be working with local governments and Barber-Scotia's leadership (or more accurately lack of leadership) has squandered that opportunity.
Once again I offer Barber-Scotia a chance to tell their side of the story and if they have someone graduating this May as they say, I would like to interview that person for a feature story in the paper.