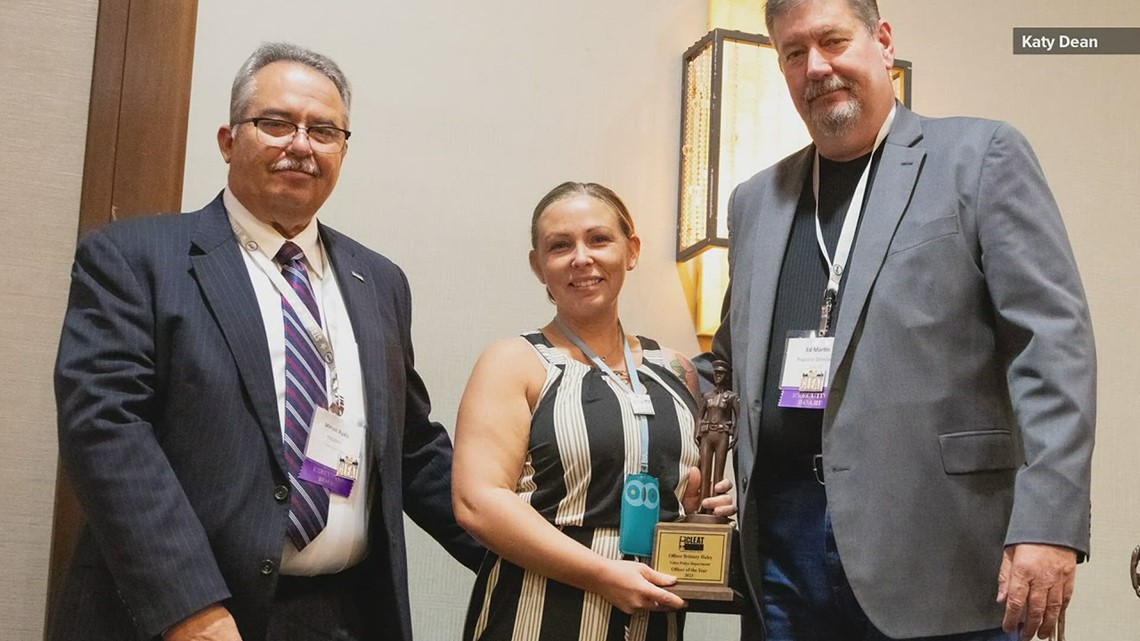 "She doesn't look at herself as a hero that day. She looks at herself as just doing her job," Vidor Police Chief Rod Carroll said.
VIDOR, Texas — A Vidor Police officer, who was hailed as a hero for helping save a man threatening to jump from an interstate overpass in 2022, is being honored as Texas' "Officer of the Year."
Officer Brittany Haley has been named as the Combined Law Enforcement Associations of Texas' 2023 "Officer of the Year," according to Vidor Police Chief Rod Carroll.
"Unexpected for sure. Was not expecting that at all. Obviously it makes you feel good to be I guess recognized," Haley said.
It's so unexpected because Haley had an office job just five years ago.
"I got kind of bored actually, sitting behind a computer. So I googled what classes were going on at LIT and I saw the police academy and thought that'd be fun. I don't see myself doing anything different," she said.
"She exemplifies what it means to be a police officer," Carroll said in 2022. "She does what our community desires. She is compassionate and she has empathy for others. I think those are the two most important characteristics you can have for an officer."
Haley was one of several Vidor officers sent to the Texas Highway 12 overpass crossing over Interstate 10 on a sunny September day after callers reported a man was hanging off the bridge over the busy interstate.
Her body camera footage from that day showed how the entire scene unfolded as the man threatened to jump.
"I don't have any training in it so I didn't know if that's what I should do or if that would push him to jump. So I just kind of started yelling at him. And kind of putting some force behind my voice saying that there's people here for him. And there's help for him," she said.
Haley says once she got closer, she realized she recognized the man and was actually aware that he had been having some issues.
"I knew he had kids too so I brought that up, so, anything I can use to get a connection that can pull him back to reality a little bit," she said.
Keeping calm, Haley continued talking to the 20-year-old man, showing him empathy and letting him know he's not alone. she told 12News at the time.
Body camera video also caught the moment when the man had a sudden change of heart and swung his legs over the concrete barrier and was brought to safety.
Her actions saved a life and helped put Vidor on the map.
"She doesn't look at herself as a hero that day. She looks at herself as just doing her job. And that's what many people would look at it as. I believe the care and dedication that she puts into it and compassion. Everyday in dealing with citizens in there worst time, I thinks that it's a sign of professionalism," Carroll said.
Also on 12NewsNow.com…