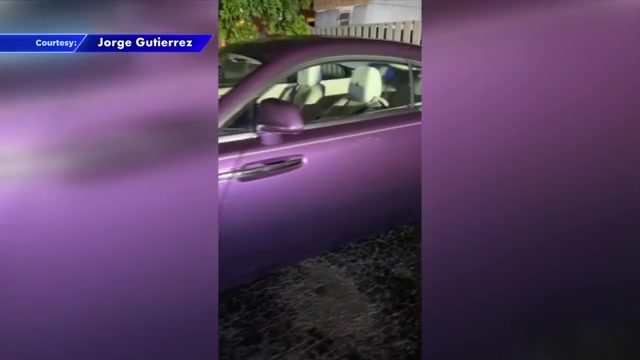 NORTH MIAMI, FLA. (WSVN) – A unique ride that was stolen from a home in North Miami last week will soon be returned to its owner after it was found in Fort Lauderdale.
The crooks behind the heist of a pricey Rolls-Royce haven't been found, but Robert Benyo and his family are grateful after an alert good Samaritan watched Friday's story on 7News.
"I have some good news: the car has been found and recovered," said Benyo.
A beaming Benyo and his wife spoke with 7News hours after they received the news they were hoping for.
Benyo said the couple's purple, two-door Rolls-Royce Wraith, one of six models made in that color, was stolen from his garage, in broad daylight, Thursday afternoon.
The crime was all captured on surveillance video. The thieves were somehow able to open the Benyos' left garage door.
The security footage showed the two subjects, seen wearing white T-shirts, as they exited a silver Mercedes-Benz sedan, ran up the driveway and broke into the garage.
Benyo said the duo grabbed the keys that were hanging on the wall.
Moments later, one of the perpetrators crawled under the middle door, hopped in the car and backed down the driveway. The Mercedes and the Rolls then raced away.
Benyo, a man who means business, teamed up with North Miami Police, as they searched low and high to find those responsible.
The homeowner even hired a pilot to fly a banner place that read, "Stolen purple Rolls-Royce" and Benyo's phone number. The aircraft took to the air on Friday and Saturday.
After hundreds of calls and texts, a good Samaritan pointed them in the right direction.
"This young lady that said, 'I've been looking at the car for a couple of days now. Haven't seen anybody near it, and my boyfriend saw the airplane flying overhead, and then we caught it on Channel 7,'" said Benyo. "Between the two of them, it motivated them to just reach out; she was terrific."
The Rolls was located along the 4100 block of Southwest 51st Street in Fort Lauderdale.
The outcome, Benyo said, was the result of a team effort among agencies.
"I have to really thank Detective Antoine and Officer Jorge Gutierrez, who led this team effort," he said.
The Rolls will be on the road again. It is heading to be processed before it is returned to the Benyos.
In the meantime, Benyo said, although his security was tight before, this theft taught him a valuable lesson.
"No matter how safe you think your property is and you are, there's a lot more that can be done," he said. "We really need to make it more difficult for people to take the things that we work so hard to get."
Benyo said his family was at home at the time of the theft. Thankfully, no one was hurt.
As of Sunday night, the thieves remain at large.
If you have any information on this theft or the subjects' whereabouts, call Miami-Dade Crime Stoppers at 305-471-TIPS. Remember, you can always remain anonymous, and you may be eligible for a reward of up to $5,000.
Copyright 2023 Sunbeam Television Corp. All rights reserved. This material may not be published, broadcast, rewritten or redistributed.