James and Alexa say their dog Duke was stolen in Prince George's County in September, as their pet sitter was dropping him back home.
FORT WASHINGTON, Md. — It's been five weeks since a D.C. couple says their dog, Duke, was stolen during an attempted carjacking in Prince George's County.
"We're still driving through Maryland every day after work and all weekend searching for Duke, passing out flyers, canvassing neighborhoods and businesses, running down tips. We got some reported sightings that could be credible, but they're still unconfirmed. We put trail cameras in those areas just in case, but so far we've only seen deer and foxes," the couple posted online.
James and Alexa told WUSA9 last month, that after they returned home from their honeymoon, they got a call from their pet sitter telling them their three-year-old dog Duke had been taken. "She's bawling, she's crying. She says Duke has been taken. Duke has been stolen," James told WUSA9.
They added, "We're so grateful to everyone supporting Duke's GoFundMe."
The dog was reported stolen on Friday, September 22, around 9 p.m. on Livingston Road in the Fort Washington area of Prince George's County.
James said their pet sitter told them she had pulled over to the side of the road and was adjusting her GPS when she was confronted by two armed men.
"All of a sudden two guys pull up, armed with handguns saying get out or we are going to kill you," he said.
The couple says the sitter told them that their 80-pound, 27-inch-tall gentle giant was sitting in the back seat.
"She had a German Shepard in the front seat, that was very aggressive, pushing back, deterring them. They get the back doors open and they grab Duke," James said. He says the sitter is still very shaken by what happened, but luckily, she was not harmed.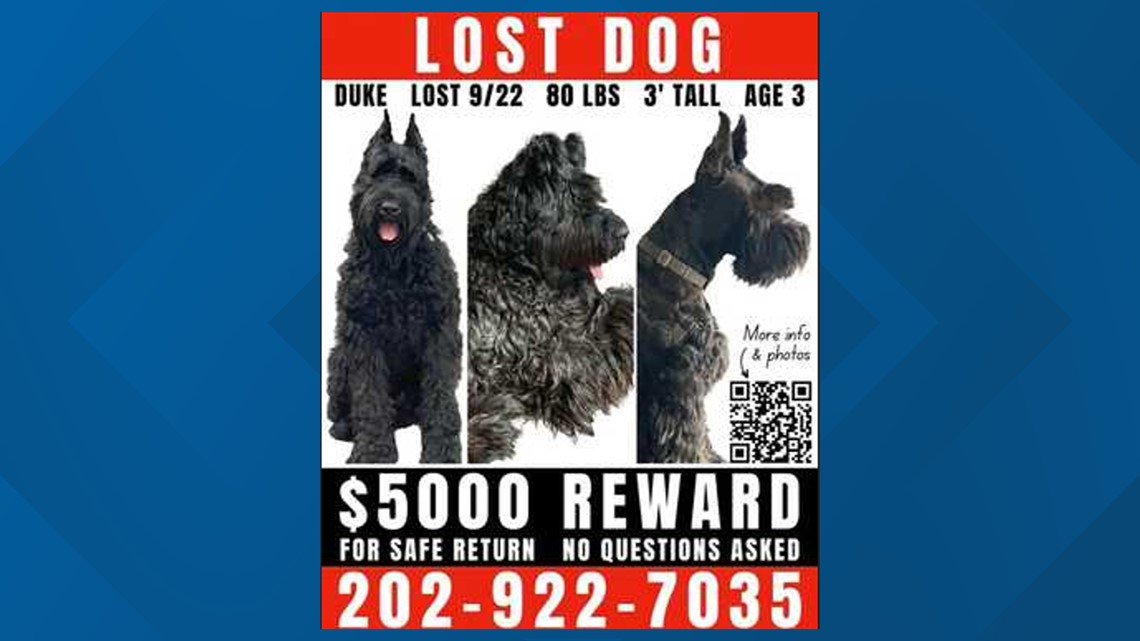 "Police have suggested that he could be used bait for dog fighting. He could be sold anywhere in the country to an unsuspected buyer, or he could have gotten loose and been released and he could be outdoors in the DMV," Alexis said.
"Thanks to neighbors, family, and friends who have supported Duke on our GoFundMe, we were able to increase our reward to $5,000 for Duke's safe return. This is in addition to the police's $2,500 reward for tips leading to an arrest and indictment, for a total of $7,500 to bring Duke home!" the family posted online.
Anyone with information is asked to call (202) 922-7035 or text 50411.