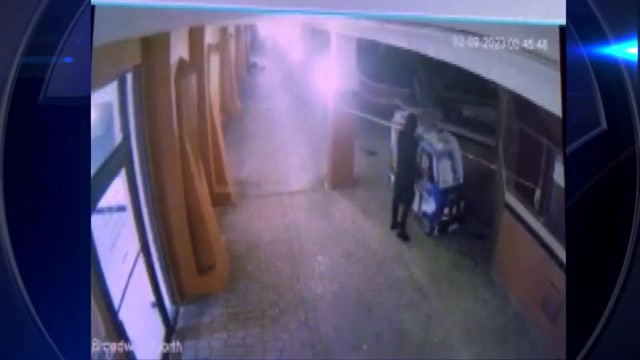 HOLLYWOOD, FLA. (WSVN) – A bar owner is asking the community to help return three ice machines, including one worth thousands of dollars, after they were stolen along the Hollywood Broadwalk.
Surveillance video captured a subject wheeling away a Kona Ice machine in the early hours of Feb. 9.
The pricey ice machine belongs to the Red Pelican Bar and Hookah Lounge.
The manager of the bar, Felix Gelman, said the perpetrator took two other machines as well.
"One morning I got the phone call that [the Kona Ice machine had] been stolen, including two other machines, frozen machines from Frosty Factory," said Gelman.
"This was taken at 4 o'clock in the morning that they came and they broke the lock that was on it," said Morrie Levine, an attorney representing the business.
The Kona Ice machine makes frozen drinks smilar to snow cones. It was located near the business on the Broadwalk.
"Kids could come to the boardwalk and order shaved ice with syrup," said Gelman.
The manager said the theft is a blow to the Red Pelican.
"Now it's the high season of the spring break. Meanwhile, we have no machine, we have no business," he said.
Gelman and Levine said the Kona ice machine was also valuable to the community.
"It's the only non-alcoholic drink, for kids to have it on the boardwalk, and we were the only ones that were selling Kona Ice machine," said Gelman.
"A mother came with two little children and asked, 'Where is the Kona Ice machine,' so right there it's affecting not just the business that we have, but it's affecting people that come to the beach that are familiar with Hollywood Beach and now have had this taken away," said Levine.
Gelman and Levine are hoping that the person who took the machine will come forward.
"I will reward them financially that will bring the machine back. I will not press any charges to them," said Gelman. "I understand. Maybe somebody saw the machine elsewhere and can give us a call to give us a hint to locate it back."
The owner of the bar is offering a $5,000 reward if he gets the three stolen machines back.
If you have any information on this theft or the whereabouts of the machines, call Broward County Crime Stoppers at 954-493-TIPS. Remember, you can always remain anonymous, and you may be eligible for a reward.
Copyright 2023 Sunbeam Television Corp. All rights reserved. This material may not be published, broadcast, rewritten or redistributed.