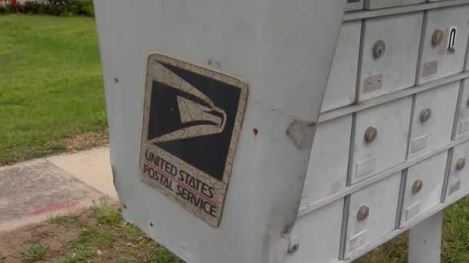 A local mail carrier was robbed at a Sanford apartment complex and robbed of a key to community mailboxes."It shows a brazen act, they were definitely determined to get that key at all costs and we worry about our postal workers," said Bianca Gillett of the Sanford Police Department. It was March 9 in the middle of the afternoon at the complex at 46-A and Rinehart.The masked suspect is accused of "threatening (the victim) with a black handgun" and saying "give me the key.""It's very concerning, it happened in broad daylight," Gillett said. In late January, there were similar two incidents an hour apart. In Altamonte Springs, a mail carrier was "in fear for his life" when three masked suspects approached him.One had a "black handgun pointed at his torso."The recent robberies are enough of a concern to the United States Postal Inspection Service that it's offering a significant reward for information leading to their capture.There is a wanted poster with information about the Altamonte Springs robbery and an attempted robbery an hour earlier in Orange County.It includes the $50,000 reward for information.There's a photo of a potential suspect and the black Volkswagen SUV he was spotted driving at Colonial and Orange Blossom Trail.The stolen keys are to large community mailboxes."The potential secondary victims that will come of this crime if those keys are used to take people's personal information out of these mailboxes," Gillett said. The Sanford case is not presently linked to the two in January, but the investigation is ongoing and the potential damage is huge if they are not stopped."Identity theft is something we deal with in law enforcement daily, so we want to make sure everyone's aware of it, so people stay aware of their personal accounts and information," Gillett said.Gillett suggests communities with community mailboxes install security cameras for an added layer of protection.Top headlines: Unclaimed $186K lottery ticket about to expire after being sold at Florida Publix Tuition-free Bezos Academy opens in Orlando Police: Mother who left children at Lake County gas station for hours charged with child neglect
SEMINOLE COUNTY, Fla. —
A local mail carrier was robbed at a Sanford apartment complex and robbed of a key to community mailboxes.
"It shows a brazen act, they were definitely determined to get that key at all costs and we worry about our postal workers," said Bianca Gillett of the Sanford Police Department.
It was March 9 in the middle of the afternoon at the complex at 46-A and Rinehart.
The masked suspect is accused of "threatening (the victim) with a black handgun" and saying "give me the key."
"It's very concerning, it happened in broad daylight," Gillett said.
In late January, there were similar two incidents an hour apart.
In Altamonte Springs, a mail carrier was "in fear for his life" when three masked suspects approached him.
One had a "black handgun pointed at his torso."
The recent robberies are enough of a concern to the United States Postal Inspection Service that it's offering a significant reward for information leading to their capture.
There is a wanted poster with information about the Altamonte Springs robbery and an attempted robbery an hour earlier in Orange County.
It includes the $50,000 reward for information.
There's a photo of a potential suspect and the black Volkswagen SUV he was spotted driving at Colonial and Orange Blossom Trail.
The stolen keys are to large community mailboxes.
"The potential secondary victims that will come of this crime if those keys are used to take people's personal information out of these mailboxes," Gillett said.
The Sanford case is not presently linked to the two in January, but the investigation is ongoing and the potential damage is huge if they are not stopped.
"Identity theft is something we deal with in law enforcement daily, so we want to make sure everyone's aware of it, so people stay aware of their personal accounts and information," Gillett said.
Gillett suggests communities with community mailboxes install security cameras for an added layer of protection.
Top headlines: