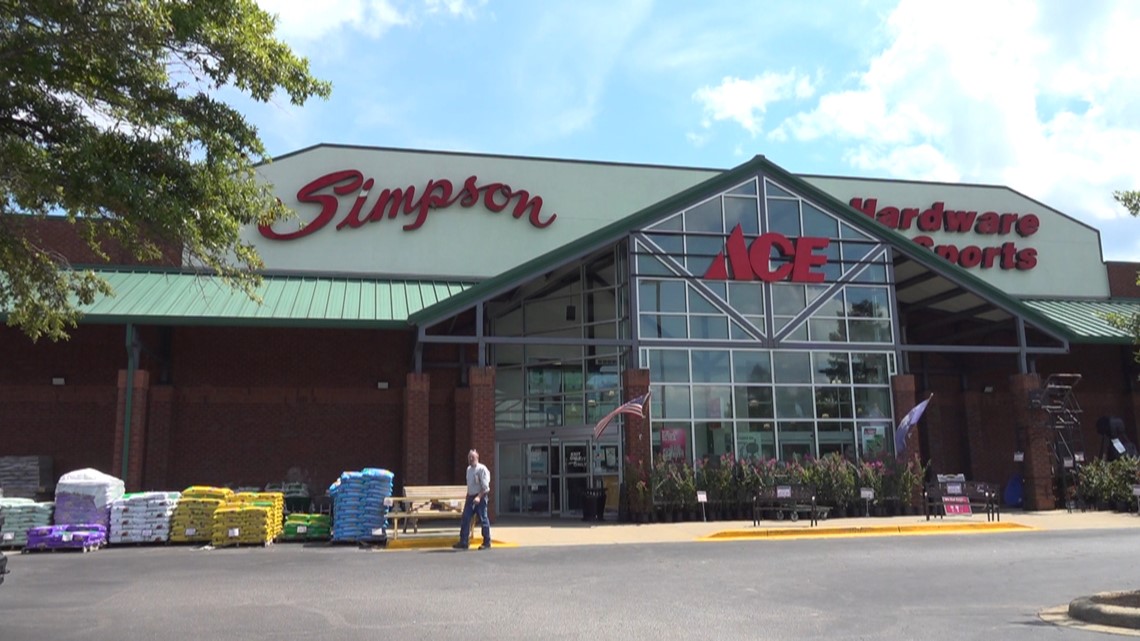 Matthew Davis is the CEO at Simpson Ace Hardware, a family-owned business in Sumter. On Wednesday, police say five suspects broke in and stole more than 20 firearms.
SUMTER, S.C. — More than 20 guns have been stolen from a local hardware store in Sumter. Police are asking anyone with information to come forward.
"It is a family business, but all our associates who feel like the work family…it feels like a violation," Simpson Ace Hardware CEO Shawn Matthews explains. "It feels wrong."
The Sumter Police Department says nearly two dozen long guns were stolen when five people, caught on security footage, broke into the family-owned business on Wednesday around 4:30 a.m.
"We're all staying positive and really hoping that they're going to catch the guys that did it," Matthews explains.
News 19 requested the incident report, which says officers arrived at the W. Wesmark Boulevard location when an alarm was activated after suspects broke the glass door with a cinder block. The report says officers watched surveillance footage, and saw "all five suspects are then seen running to the gun counter.
Once the suspects were at the counter, the incident report says they jumped over it and grabbed long guns before running back out.
"It would be easy for them to bring them here," Reliable Pawn Shop General Manager Jamie Nance says. "It would not be easy for them to get away with selling them here."
Nance says having guns come into his store is a frequent occurrence.
"Guns and jewelry are the most commonly pawned items," Nance tells me. "So it's very common, that multiple times a day we'd see guns. Same thing with jewelry."
But, Nance says there is a database in place to track any guns he receives or sells so law enforcement can keep track of firearms. Sumter Police Department says it is actively investigating and is asking for help from the public identifying the five suspects — who were wearing dark-colored hoodies and gloves — or their vehicles.
While Matthews isn't sure where the stolen guns are at this point, he says the community is helping him stay positive.
"It seems to be that the community's really rallying so that Sumter County is known as a place that this kind of thing can't happen," Matthews shares. "I don't think we can build this business without the partnership of the community. So it does feel like everyone's very supportive and really behind us in this."
There is a $5,000 reward for anyone with any information that leads to an arrest. If you think you might have seen anything early Wednesday morning near the business or might know someone who was involved, you can contact Crimestoppers anonymously in any of the following ways: