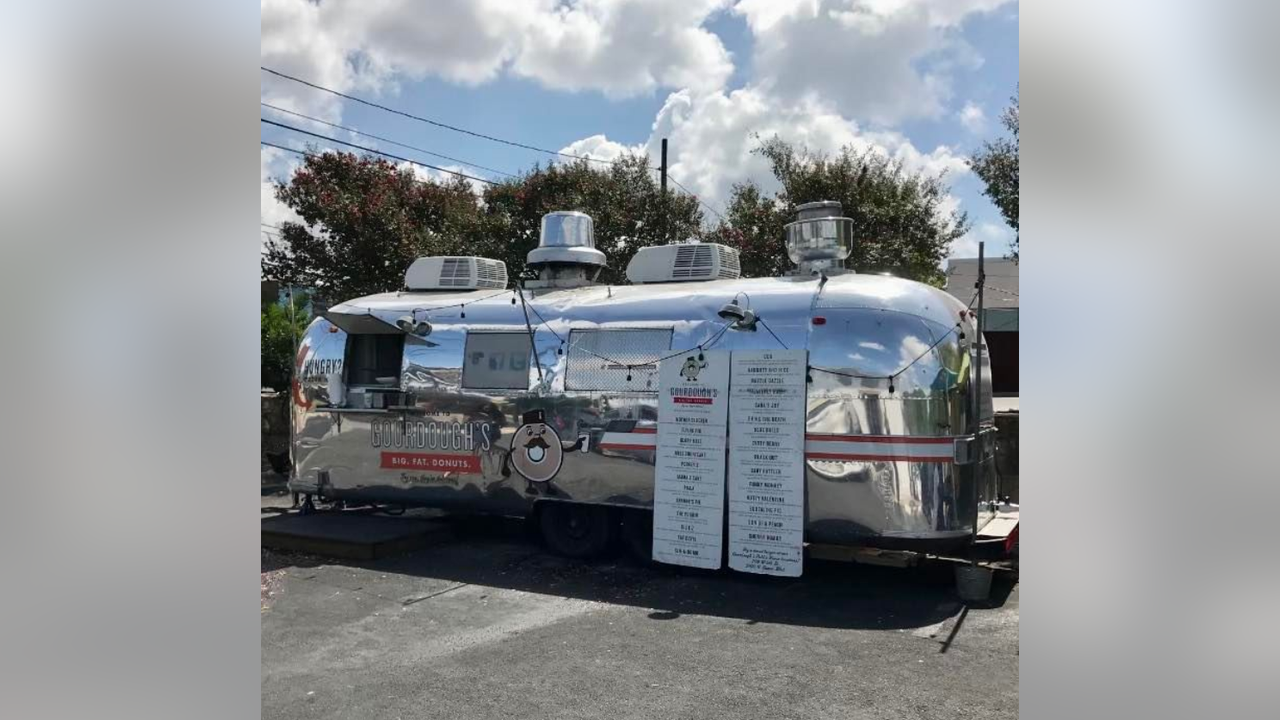 AUSTIN, Texas – It's a crime wave that's on the rise in the Austin area, brazen bandits stealing trailers from people's properties. Some of those thieves are making off with food trucks, leaving local business owners in a tough spot.
"Oh, I mean I was super hurt," said Ryan Palmer, co-owner of Gourdough's Donuts.
South Austin-based Gourdough's Donuts said someone stole their Airstream Trailer in Bastrop County, either Christmas Eve or Christmas Day.
"I think they just picked the opportune time to do it," said Palmer.
It was parked outside a metal storage barn along Highway 21 in Cedar Creek. The thief hauled off a Kubota trailer from inside the barn as well.
"I'm shocked because it is on a well-traveled highway. It was visible from the highway," said Palmer.
The stolen truck has put a major kink in Palmer's business plan.
"We recently closed our restaurant. It was on South Lamar for the last 10 years, and we were going to go back to our roots and open two new locations—one south and one north—and this was one of the trucks we were going to open up in January. So it's a big setback," said Palmer.
RELATED COVERAGE:
The worst part, Palmer's insurance had lapsed, so it could cost him up to $50,000 to replace the trailer.
"We're just asking everyone to keep their eyes and ears open and maybe somebody will see it," said Palmer.
Meanwhile, in North Austin, a bit of good news. Trinh Nguyen, the owner of Le Bleu has her food truck back, after it was stolen last month.
"I don't know what they're thinking, but maybe because it's easy for them to target a food truck," said Nguyen.
The Saigon le Vendeur trailer was hauled off by a stolen pickup truck. Surveillance video captured the pickup, and the suspect shoplifting at a nearby store. A good Samaritan noticed the trailer near the Travis County Expo Center, and 43-year-old Justin Williams, is now behind bars charged with theft of property and criminal mischief.
"It's a relief, a big relief, because we found our property back. It's not something that you—in the back of my mind I never thought I'd see the trailer again," said Nguyen.
Thankfully, it's still intact, aside from a broken lock and a sloppy new paint job.
"I would appreciate if they did a better job," said Nguyen.
Back at Gourdough's, the South 1st Street truck is still serving up donuts, but Palmer is hoping whoever stole the other trailer will have a change of heart.
"I would just hope that they would just leave it somewhere, so I can find it and serve donuts and employ people in Austin," said Palmer.
If you have any information on the stolen Gourdough's truck, you're urged to contact the Bastrop County Sheriff's office. Gourdough's is offering a cash reward to anyone who is able to help them get the truck back.