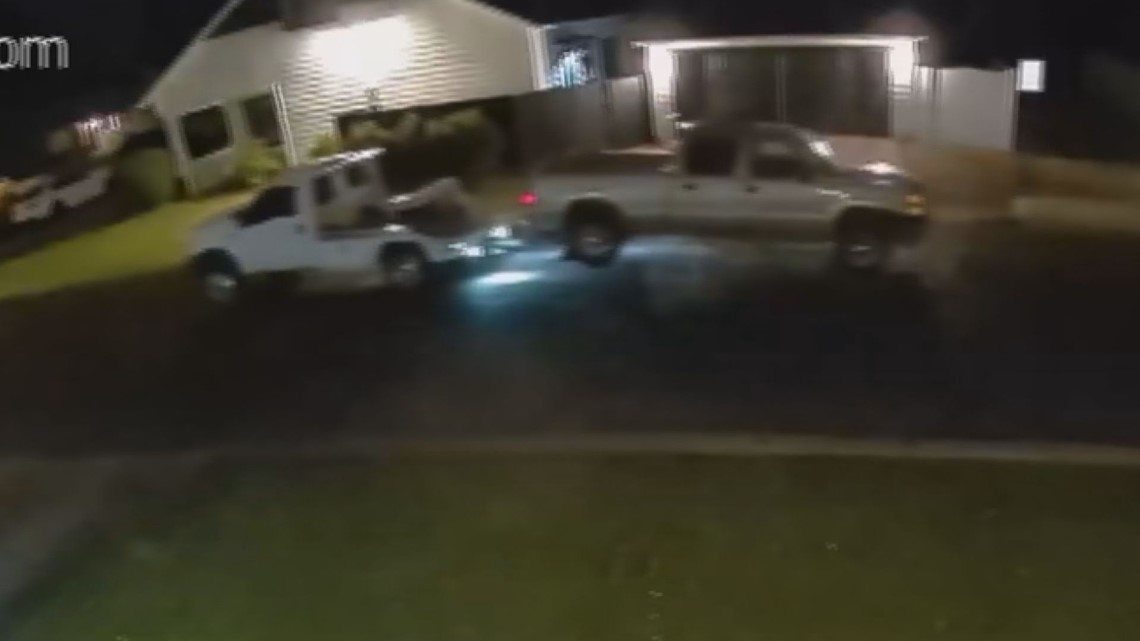 Security camera footage from an Arcadia neighborhood shows Steve Such's truck being towed away, then crashing into a car as it is released from the tow truck.
PHOENIX — An Arcadia man is warning the community after his truck was stolen from the front of his home by a person driving a tow truck.
Several cameras from around his neighborhood near 44th Street and Indian School caught the crime and show his truck hitched to the back of a white tow truck.
Shortly after it was taken early Sunday morning, video shows the truck getting released from the back of the tow truck and slamming into an SUV parked in a neighborhood. The driver of the tow truck fled the scene.
"It was a 2003 Chevy Silverado Crew Cab HD 2500 4×4," said Steve Such. "A lot of people were commenting, 'Oh, well your truck got repoed.' That thing has been paid off for 20 years."
Steve Such said he and his wife found out his truck was gone around 5 a.m. Sunday when his phone rang. His wife checked the voicemail that was left and it was from the Phoenix Police Department, notifying them his car was involved in a crash.
"And she looks out the window and she goes, 'Your truck is gone,'" Such recalled.
The crash site was in another neighborhood about a mile up the road from his house. When Such arrived, he saw his truck smashed into an SUV.
Such said investigators initially thought the person who stole his car was behind the wheel and crashed. But the scene didn't make sense.
"I couldn't figure out the way that the damage was," Such said. "It couldn't have been driven."
That's when Such started going door to door and asking neighbors with cameras if they caught anything unusual.
"I was getting four or five or six different people sending me video of this white tow truck," Such said.
The first clip shows his truck being taken away by the white tow truck.
Then, another video shows a problem. His truck starts fishtailing.
"It was wagging like a dog. The guy was going really fast," Such said.
Another camera shows the truck getting released from the back of the tow truck and slamming into the parked SUV. The driver of the tow truck fled the scene.
"Thankfully, it hit that other SUV. I mean, if nothing was there, it could have potentially slid into a house or something," Such said.
Unfortunately, Such's truck and the SUV are both totaled.
Such said he did everything right. His car had an alarm and was locked. But he never expected something like this to happen.
He has advice for others as police search for the person responsible.
"If you park on a driveway, back it in," Such said. "Another thing I would do, a simple thing, is turn your wheels. Just be aware in your neighborhoods."
If you have any information about this incident, you're urged to contact Phoenix PD.
Tow truck theft trend?
This isn't the first time a tow truck has been involved in a vehicle theft.
In July of last year, a man captured video of a white tow truck stealing his truck from his home near McClintock and Chandler Ave.
Two days later, a Peoria man had his brand new truck stolen out of his driveway by a white tow truck.
Peoria PD tells 12News they referred the case to DPS' Vehicle Theft Task Force.
Up to Speed
Catch up on the latest news and stories on the 12News YouTube channel. Subscribe today.
Silent Witness:
Arizona's Silent Witness program allows people to send in tips and share information about crimes happening within their local communities.
The program shares unsolved felony case information in multiple ways, including TV, radio and social media.
Anyone who has information on a crime or recognizes a suspect described by the program is asked to call 480-948-6377, go to the program's website online or download the Silent Witness app to provide a tip. The identity of anyone who submits a tip is kept anonymous.
Calls to Silent Witness are answered 24/7 by a live person and submitted tips are accepted at all times. Submitted tips are then sent to the detective(s) in charge of the specific case.
Individuals who submit tips that lead to an arrest or indictment in the case can get a reward of up to $1,000.