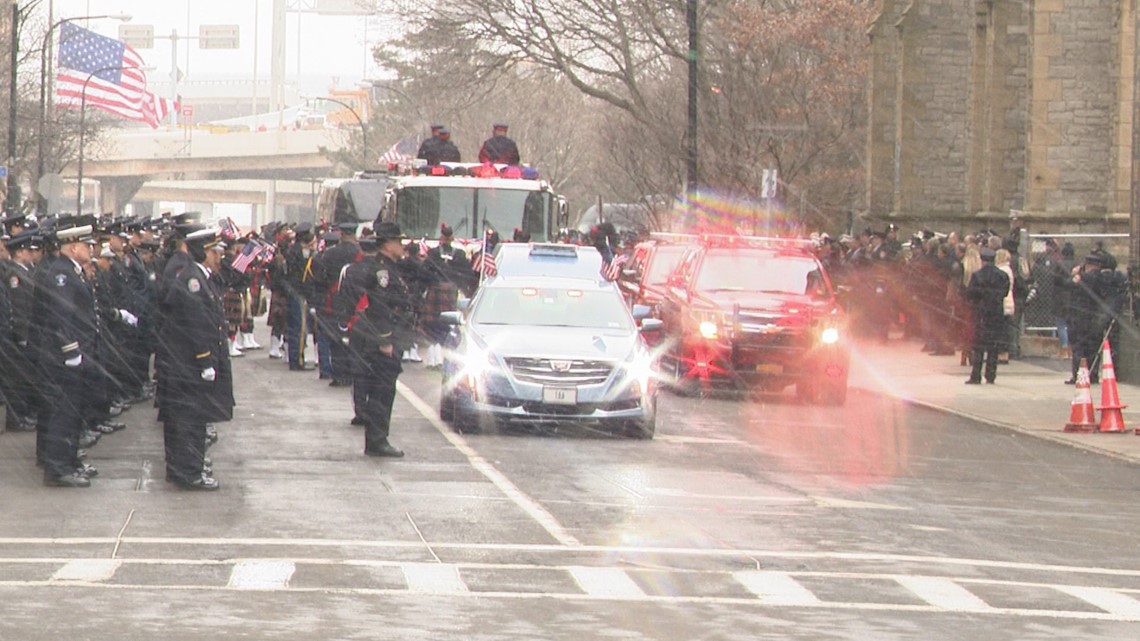 People who are not firefighters turned out to watch and pay respects in their own way.
There were also others who perhaps had connections but were not firefighters turned out to watch and pay respects in their own way.
And then watching the funeral service on a monitor we found two women also connected with the calling — yes, the calling — to respond, rescue, and save lives. In this case they were emergency medical services staffers from AMR — American Medical Response — which serves the city.
Breona McCarter is a social media and community engagement staffer with AMR. She told 2 On Your Side: "Whether it be EMS, Buffalo Fire, Buffalo Police, we all, whether we're on call together or hanging outside of work, we're a tight-knit family, so when they're hurting, we're hurting as well."
She added: "When a fire is taking place, we have paramedics and EMTs that are on standby. They're at the same scene. They're there to witness everything that everyone else is witnessing, so it does hit home for a lot of us."
AMR Emergency Medical Technician Felicia Williams also pointed out: "Especially like that day, you know we all have the same radios. We all can hear the same calls go out. So to know our friends, our family is hurting like this, it does affect us in some way, which is why we're here."
But also observing this funeral and all the ceremonial elements in the chilling wind, two women who also felt they had to be there for the firefighters and the Arno family.
Sophia Sullivan said: "I think this is the hardest job in the world, you know. And for them to risk their lives. And I just had to come out to support the family."
Kathleen Blaszyk then added: "I needed to be here just because he did so much for the community. Community is all about community. And he, God rest his soul, passed away helping the community. He's going to be very missed. I just felt like I had to get up, come out here, and show my support to him. And I pray for the family and everyone else."