Five Eau Claire fire and rescue firefighter-paramedics rushed into the electrical hot lab at Chippewa Valley Technical College to find a man with burn marks on their hands lying on the ground, unresponsive.
They asked questions, took vitals, gave fluids and did CPR — all in the name of hands-on education.
The scene was staged, and the man was a simulation manikin. But the stress and need to save the patient were real.
Chris Nyhus, firefighter-paramedic, said the situation is one they don't see very often.
"Every one of these situations is very complex in their own category," he said. "It allows us to kind of test our ability through a patient assessment and try to figure out what's going on to effectively treat the patient."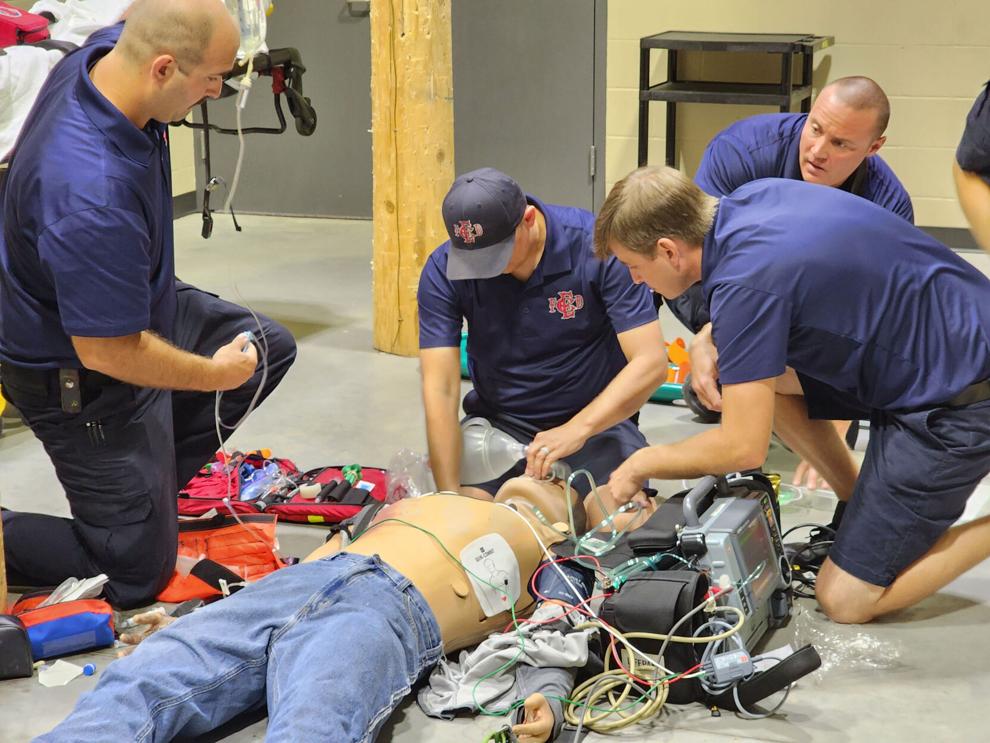 Clinical Simulation Center staff at Chippewa Valley Technical College put together the scenario for 10 groups of Eau Claire fire and rescue firefighter-paramedics to work out Aug. 2 and 3 at the college's Electrical Power Distribution hot lab. A state-of-the-art medical manikin was used to simulate an electrical shock and 20-foot fall.
Theresa Meinen, Clinical Simulation Center coordinator for the college, said she plans a scenario each year for Eau Claire fire and rescue. She determines what they're looking for in an exercise and matches the scenario with CVTC manikins.
"The electrocution scenario was chosen because it's something that has happened a couple years ago near the Twin Cities," Meinen said. "We don't have a lot of electrocutions happening. This allows every fire person in that district to do the walk-through. They may only see this once in their career. This is a good way to give them a refresher."
The scenario-based training between CVTC and Eau Claire fire and rescue included HSHS Sacred Heart Hospital and Mayo Clinic Health System as well. Meinen said it's part of the college's mission because it helps the community.
"Part of our mission is to make sure we work with our community, and providing these services for our community is really important," she said. "It's important to offer these extra learning opportunities because we're part of the community."