Delton Arno spent a few seconds looking out from the lectern at St. Joseph Cathedral on Friday morning. Not far below, laid a black firefighter's helmet that read "Engine 2."
The gear belonged to his brother, Jason Arno. And he said these words described him.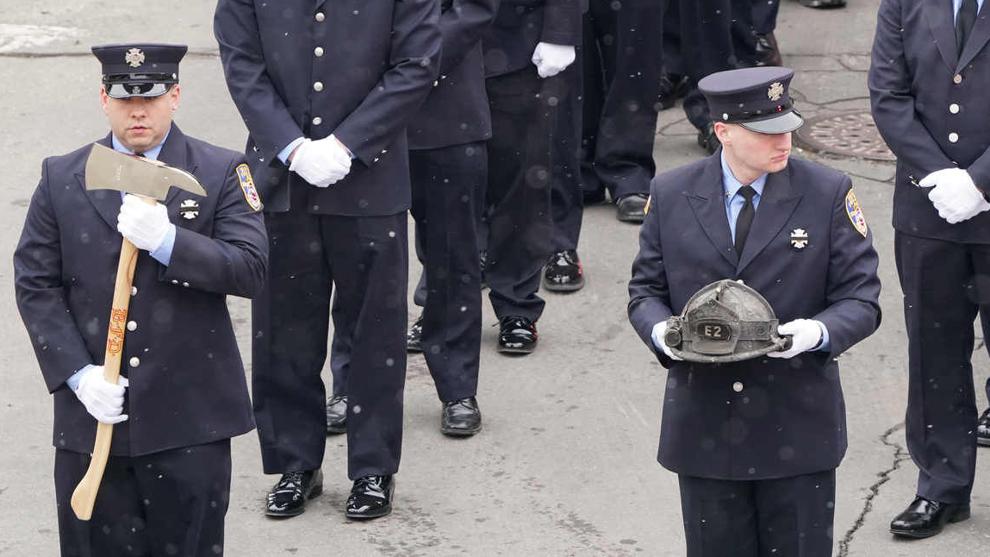 "Risky, loving, mischievous, compassionate, altruistic, belligerent, thoughtful, kind. The heart of the family, the glue between crowds, the life of the room, center of gravity, the level head among the chaos," Arno's brother said.
Thousands of Western New Yorkers and visiting firefighters from around the country gathered Friday morning in and around the cathedral on Franklin Street, witnessing the procession of Jason Arno's casket – guided by Engine 2 of the Buffalo Fire Department – from Amigone Funeral Home on Delaware Avenue to the downtown cathedral, then to Forest Lawn.
If the procession was marked by solemn pageantry, meant to honor the man who died March 1 fighting a four-alarm fire in the Theatre District, the Mass was filled with warmer memories of Arno's impact on others. While the in-person funeral was limited to members of Arno's family, close friends and firefighters, the ceremony was broadcast on local television stations and streamed on multiple screens outside.
Memories of his brother were at the heart of Delton Arno's speech. He mentioned summer bike rides, boat adventures, trampolines, drinks in Mexico and more.
"He was there fixing my untied shoes and un-popped collar," he said, later adding about his firefighting brother, "every new day he made memories for a hundred lifetimes."
Delton Arno explained how much his brother loved Buffalo.
"He knew everyone in the service industry, every building and road," he said. "He threw parties for fantasy football and the Bills made or broke his week."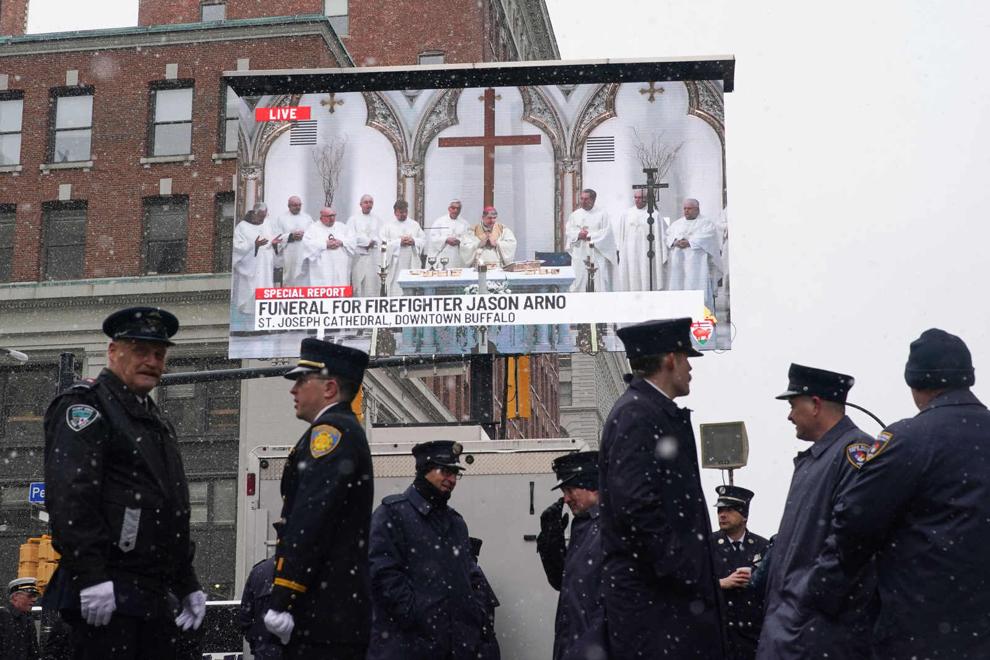 Surrounded by more than a dozen priests and a packed cathedral of Arno's family and friends, Buffalo Diocese Bishop Michael Fisher presided over a Mass that included words from Vincent Ventresca, president of firefighters union Local 282; Mayor Byron W. Brown; Arno's father-in-law Robert Tierney; former Buffalo Fire Commissioner Michael L. D'Orazio; and several others.
Ventresca shared an anecdote from the day of the Main Street fire which he said represented Arno's eagerness to be a good firefighter. Arno, who worked in restaurants and bars throughout Buffalo, regularly cooked meals for Engine 2. "There's truly something special about sharing a well-cooked meal at the firehouse," Ventresca said.
But on March 1, when calls about the Main Street fire came in, Arno entered the firehouse with arms full of groceries, Ventresca explained.
"Jay ran into the kitchen to drop the groceries so he could relieve the firefighter who was waiting for him. There was no way he was going to let his crew go out without him," he said.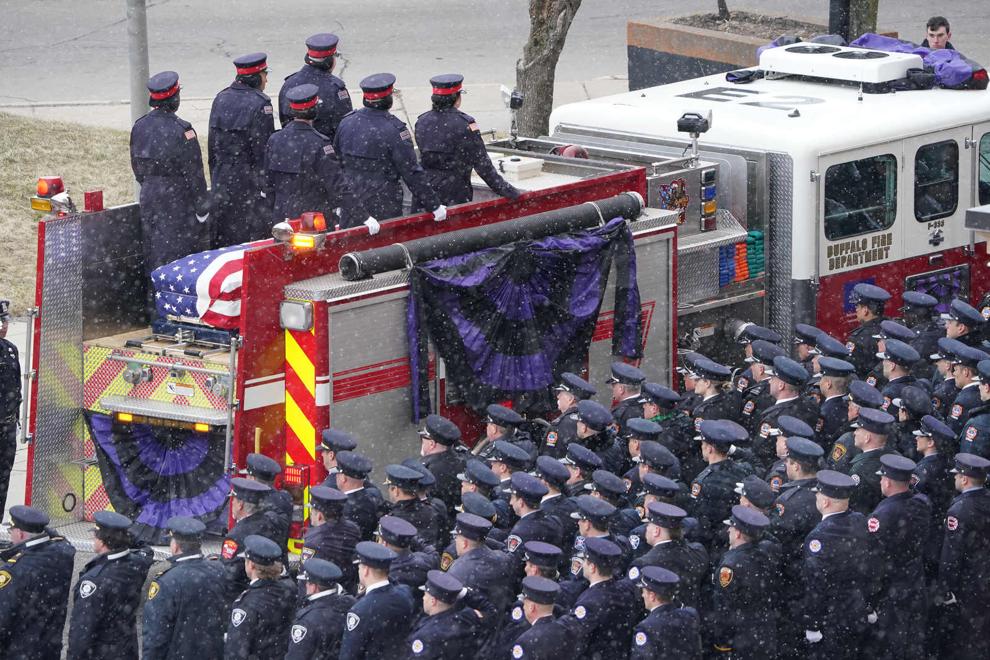 Some of the more poignant words came from Rev. James Van Dyke, a former teacher of Arno's at Canisius High School, who said the homily of the Mass of Christian Burial after the firefighter's casket was carried into the cathedral.
"Many of us have been asking this week, 'How is this even possible? How is it possible that such a bright, good young man could so suddenly and tragically be taken from us?' " Van Dyke began in his message.
Van Dyke noted the "very hard truth" of Arno's death, but spoke of his former student's "infectious joy" and love for those who surrounded him.
"He wanted to be the husband, the father, the son, the brother, the friend," Van Dyke said. "He wanted to be there for and with us."
Van Dyke added a personal touch from his memories at Canisius, remarking "how much that little guy, in the first seat of the first row in (room) 1B9 at Canisius High School, had grown. Not just in size, stature and smarts, but how much he had grown in love."
While Brown honored Arno's memory, he had a message to the rest of the firefighters who responded to the fire at 745 Main St.
Thousands turn out for the funeral of Buffalo firefighter Jason "Jay" Arno on Friday, March 10, 2023. Arno died in the line of duty on March 1…
"From chiefs to line firefighters, you did everything you could to save firefighter Arno. Many of you risked your lives trying to save him. Others fought to go back in to get him when it still wasn't safe," the mayor said. "No ifs, ands or buts about it, each of you are heroes."
The Mass included musical selections such as Catholic hymn "Here I Am, Lord," "Ave Maria" and one based on Psalm 23, "The Lord Is My Shepherd." A piano rendition of the Goo Goo Dolls' "Iris" was a local touch. Scripture was read from Romans 8 and John 15.
As mourners exited the cathedral, "Amazing Grace" reverberated.