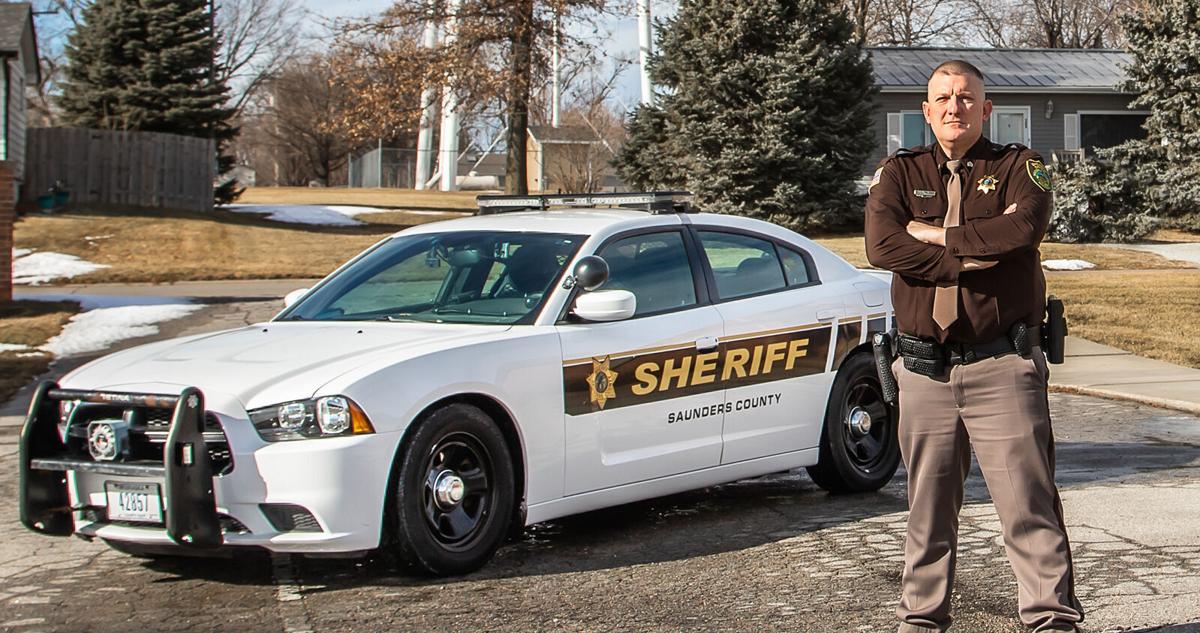 Chunks of ice and debris flowed in the Elkhorn River's rapid current as Chris Lichtenberg and other first responders waited in chest-high water for help.
The men set out to rescue a family with a young child in a house, but the seven first responders were plunged into the water when one airboat capsized and another sank.
As their body temperatures dropped in the freezing water that night, they waited for help from a Nebraska Army National Guard Blackhawk helicopter. First responders had doubts about a helicopter coming amid 50 mile per hour winds with gusts up to 60.
Almost five years later, Lichtenberg recalls that dark night.
"It was a bad night to be out, but we made a decision that we were willing to take the risk to try to save the people, because the information we had at the time was that these people were in dire need of help," he said.
Lichtenberg has spent most of his life helping others.
Still in high school when he joined the Cedar Bluffs Volunteer Fire Department, Lichtenberg later worked for the Dodge and Saunders County Sheriff's offices.
Recently, he was sworn in as Saunders County Sheriff. The office has 77 full- and part-time employees, which include deputies, corrections officers and dispatchers.
Lichtenberg also will become fire chief of the Cedar Bluffs Fire Department at the end of January. His term as chairman of the Cedar Bluffs Village Board ended in December. He was the Cedar Bluffs Police Chief from 2015 to 2021.
A man who literally has worn many hats, Lichtenberg has long maintained a full schedule.
"I've always been a person that likes to keep himself busy," Lichtenberg said. "It's always been a way of life for me. I've never known any different."
He was among high school seniors who joined the Cedar Bluffs Fire Department in 1994 and received hours of training from the late Fire Chief Rob Benke.
Lichtenberg earned an associate's degree in welding and metallurgy from Southeast Community College in Milford. For several years, he performed maintenance and operated equipment and drove a truck for All Metals Market, Inc., Fremont.
He was hired as a Dodge County deputy in July 2001 and earned a certificate from the Nebraska Law Enforcement Training Center in Grand Island.
At Dodge County, Lichtenberg was a firearms and rifle instructor, worked in investigations, assisted the III-Corps drug task force. Other duties included performing as acting coroner, filling in as a 911 dispatcher, and road patrol.
While serving as a full-time deputy for Dodge County, Lichtenberg was hired as a part-time deputy for the Saunders County Sheriff's Office in 2006.
He assisted with road patrol, court security, compliance checks and inmate transports for Saunders County.
In 2010, Lichtenberg quit working for the Dodge County department and started a company involved in commercial grain hauling. He went from having one semi-trailer truck to three and had two employees, while he continued to work as a Saunders County deputy part time.
Lichtenberg also built a building in Cedar Bluffs, where maintenance could be done on his trucks, but developed that into a tire and repair shop.
It was called Bluffs Tire and Repair.
Lichtenberg was hired full time by the Saunders County Sheriff's Office, while working in tire and repair.
"At that point, I think I had sold my trucks and slowly phased out of the tire and repair (work) and actually sold my building," he said.
Lichtenberg was promoted to sergeant for Saunders County in 2019. His duties included serving as a Taser, firearms and patrol rifle instructor and administrating the deputy schedule.
He coordinated the drone program and was a drone pilot and field training officer.
For years, Lichtenberg's law enforcement career has run parallel to his time as a firefighter.
He's served the Cedar Bluffs Fire Department since he joined in 1994 as a high school senior. Lichtenberg has been assistant fire chief since 1999.
Lichtenberg began serving as interim fire chief after Benke died in September 2022.
He's been a public servant as well, serving on the village board since 2010 and as chairperson from 2011 to late 2022.
"I did not seek re-election to the village board, because of the election as sheriff. I wanted to cut some responsibilities so I could focus on this office," Lichtenberg said.
Running for sheriff has been a lifetime aspiration.
"When I started as a deputy at the Dodge County Sheriff's Office that was always in the back of my mind," he said. "Being a resident and growing up in Saunders County, that was a goal for me."
He describes his interest in law enforcement.
"Law enforcement is truly something I enjoy," he said. "I enjoy helping people."
Looking back on his lengthy career, Lichtenberg said there have been numerous incidents or accidents where families' lives were changed, because of the loss of a loved one.
"Some of those things do stick with you," he said. "But you basically have to tell yourself that you continue on because of all the people, who have been saved and you've changed for the better that make the difference in this job."
Lichtenberg recalls the night in March 2019, when he and other responders went to help a family during what would be historic flooding.
He'd seen a Facebook post by a Fremont fireman looking for an airboat. Lichtenberg volunteered the use of his along with his help. He and Cedar Bluffs Assistant Rescue Squad Chief Matt Baker went to the site along with some Fremont Fire Department members.
"We set out to help and, basically, the conditions were so bad that our airboat ended up sinking before we got to the people to rescue them," Lichtenberg said.
Rich Osterloh, a Fremont firefighter and EMT, would tell the Tribune he didn't think the men would have lasted four hours in the icy river.
First-responders, who sought to develop a self-rescue plan, had few options and faced the grim reality that they might not make it even as they were committed to surviving.
Yet the Blackhawk helicopter came from Columbus, searching for the men as pilots sought to avoid nearby power lines. Pilots, who didn't have time to refuel, later told the Tribune they wondered if they'd have enough fuel to rescue all the men.
Lichtenberg and another rescuer, Wayne Kreifels, were the only two who weren't wearing wetsuits. They were airlifted first.
All seven were rescued. The family later was rescued as well.
Lichtenberg said he'd never been that close to death before.
"I certainly can never thank the National Guard enough for coming and rescuing us, because without them I'm not sure I would be here to talk about it today," he said.
The next day after their rescue, Lichtenberg and other first responders were out on airboats helping other people.
"It's not that it scared me away from helping people and being on a boat in those treacherous conditions," he said. "We got back and continued to do it that next week, just not in my own boat."
Now, he looks to the future.
Lichtenberg said his time at the sheriff's departments in both counties has been very positive.
"There always a ton of community support no matter where you go," he said. "It's certainly different than some of the stories you see on national news of people yelling at law enforcement or throwing things at them."
Lichtenberg said the sheriff's office has 15 full-time deputies and 38 full-time corrections officers and eight full-time dispatchers. Brian Styskal is director of corrections and handles that part of the office, but Lichtenberg has a part of that as well.
In the future, Lichtenberg said he wants to get out on the road more and work with all the shifts. He wants to continue to update the office technologically. He plans to talk with each staff member and gather their ideas for things that could be done better.
"With the leadership roles I've had in the past, I thought it was a good fit and a challenge for me to be able to continue on the work our sheriff's office does and try to make things better and lead our department into the future.
Lichtenberg and his wife, Stacey, have three children, Blake, Hunter and Kennedy. Blake and his wife, Brianna, have a daughter, Collyns.