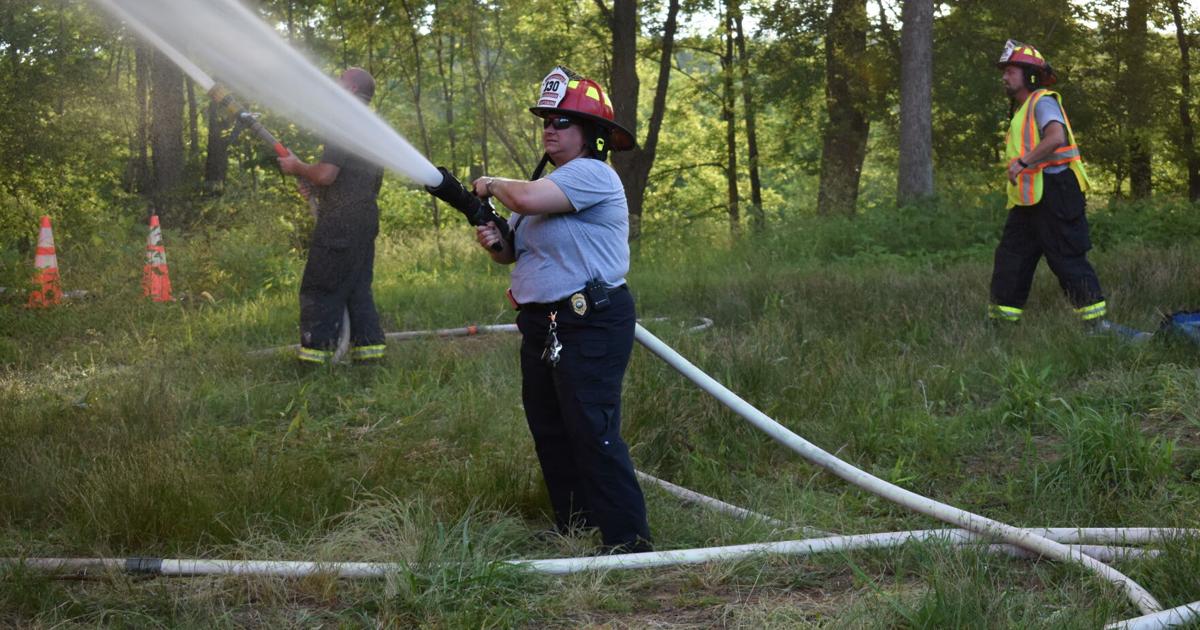 STONEVILLE — About 15 years ago, Melissa Joyce found herself in a situation where she had to call 9-1-1, and that experience made her realize she wanted to do more to help people in need.
In 2008, at 36, Joyce became a volunteer firefighter, working for the Northwest Rockingham Volunteer Fire Department, and the lifelong Stoneville resident quickly discovered her true calling – public service. Joyce's dedication to serving her community eventually led her to her newest position, Rockingham County Fire Marshal. Joyce assumed her new role in February following the retirement of Fire Marshal Anthony Crowder. Previously, Joyce was Deputy Fire Marshal for the county.
"I am excited to take on this new position," Joyce said. "There will be new things to learn because the fire service is an ever-changing field, but I am looking forward to seeing the progress continue."
After becoming a volunteer firefighter, Joyce eventually decided to give up her career as a sales representative for a respiratory supply provider and began work as a 911 dispatcher before landing a full-time time job at PTI Airport as an airport firefighter.
In 2019, Joyce came back to Rockingham County as an Assistant Fire Marshall and was promoted to Deputy Fire Marshall this past May. She also has worked part-time at Wentworth Fire Department and as an instructor at Rockingham Community College.
As Rockingham County Fire Marshal, Joyce and her office are responsible for inspections, investigations, plan reviews and public education, and they assist firefighters as needs arise. Joyce will also be doing administrative work, including budgeting, program development and working closely with fire departments to assist them with needs.
Currently, she has one person under her supervision but will be hiring another assistant fire marshal soon. She also looks forward to continuing her work with the Rockingham County Fire Marshal's Office Annual Toy Drive, which she and her co-worker, Assistant Fire Marshal Jeremy Shelton, started three years ago.
"Jeremy and I have worked closely on it the last several years, so he may run lead and I assist him where needed," she said.
"It has been a great success supported by the citizens, fire departments and businesses, and we are so grateful that this county's citizens are so giving and make it successful."
Joyce said she is enjoying being close to home, working in Rockingham County and being able to make a difference in her community.
"Fire departments are families, and we work together at a common goal, helping others that are in need," Joyce said. "It is amazing how even just installing a smoke alarm can save lives."
Joyce and her husband, James, have been married for 27 years and have two adult children and one granddaughter. In her spare time, Joyce enjoys reading suspense books, gardening, canning vegetables, cooking and relaxing on the porch with her dogs. In addition, she likes to watch some sports.
"I do not have a favorite team, mostly the underdogs," she said. "I also love water – ponds, lakes, rivers and oceans, and I love to travel and spend time at the beach."
A member of the Rockingham County Fire Life Safety Educator Group and the Rockingham County Chapter of the North Carolina Firefighters Burned Children Fund, Joyce also sits on the Voluntary Advisory Board for the Local Government Federal Credit Union.
She is excited about the future and her goals for the Rockingham County Fire Marshal's Office.
"My hopes for our county include continuing to strive to make sure every home in our county has working smoke alarms, making sure businesses are safe for employees and patrons and helping our county grow," Joyce said.
"I hope to also be able to add additional staff to the fire marshal office to be able to do more for our citizens."