A former firefighter and cancer survivor lost two of his beloved Dalmatians when his D.C. apartment went up in flames over the weekend. His family has tried to help him cope with his losses while a third dog is being treated for injuries.
It's a loss almost impossible for Daniel Johnson to put into words.
"Anytime you lose a pet — I mean, they're a family member," he said.
Flames ripped through apartment at MacArthur Boulevard and Q Street NW on Saturday, with his dogs, Max, Ashes and Cinder trapped inside. Johnson ran into the burning building to try to save them.
The former firefighter did his best to save his pets, but two of them — Max and Ashes — did not survive.
"I carried those three girls out of that apartment Saturday night and it brought back memories, but you know, those were my kids, not someone else's," Johnson said.
Cinder was rushed to an animal hospital, where she's was getting around-the-clock care. On Tuesday night, she was transferred to a different animal hospital to get more intensive care.
She helped Johnson through a rough patch a few years ago. Now Johnson, a cancer survivor, says it's his turn to help her.
"She had me getting up and taking her out for walks when I was going through cancer treatment," he said. "I mean, she was very therapeutic for me because, you know, the pups got to go out. I didn't want to do anything."
Johnson says he's grateful to be alive, but he's got a long road ahead. He lost all of his belongings in the fire. Cinders' emergency vet bills have piled up. His sister started an online fundraiser to help him pick up the pieces.
"And we're just trying to help Danny get back on his feet," his sister, Dayle Hadden, said. "He lost everything. I mean, he can't get his dogs back, no, sadly, but it goes beyond that."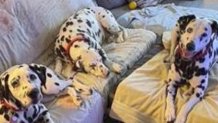 "I've carried pets out of a burning building. I've carried children. I've carried burned people. So it's one of these things now where it's my turn," Johnson said. "And it's not because I didn't think it could never happen to me. I just, you know, at 61, it hasn't happened yet — until Saturday."
The cause of that fire remains under investigation.