We did it Thursday, and we'll try to do it again Friday and Saturday: record high temperatures. With 80 degrees or better likely the next two days inland, more records may fall. Even the shore could set new heat marks.
Recapping Thursday, Atlantic City International Airport tied the record high, reaching 80 degrees. Millville broke the previous record high, reaching a balmy 79 degrees.
This was possible, though I thought the chances of breaking the record were unlikely.
Given we outperformed computer models, and my forecast, by two to three degrees, I have higher confidence that records will fall Friday and Saturday, at least inland.
Looking ahead, I'll go with an inland high temperature of 80 degrees Friday and 82 degrees Saturday.
Using this, we would tie the record Friday and break it Saturday.
Moving to the shore, I have a high temperature of 76 degrees Friday and Saturday. We have a shot of breaking Friday's record at Sen. Frank S. Farley State Marina in Atlantic City, which is 77 degrees.
Getting the record high Saturday would take a big forecast error on my part, as we'd need to reach 85 degrees.
Even if we don't break records, though, it'll still be extremely comfortable. We have a pair of legitimate beach days coming up. No jackets will be needed during the day, either.
Temperatures both evenings will fall into the 70s and 60s. Overnight lows will generally be 55 to 60 degrees. No warm minimum temperature records are expected, and you can save on the heating bill, too.
Cloud cover will range from clear to partly cloudy during the two-day stretch. A bit of inland fog will be possible early each morning, too.
The reason for this warmth is a ridge of high pressure from our south. A high-pressure ridge brings a thicker atmosphere, which has the ability to hold more heat.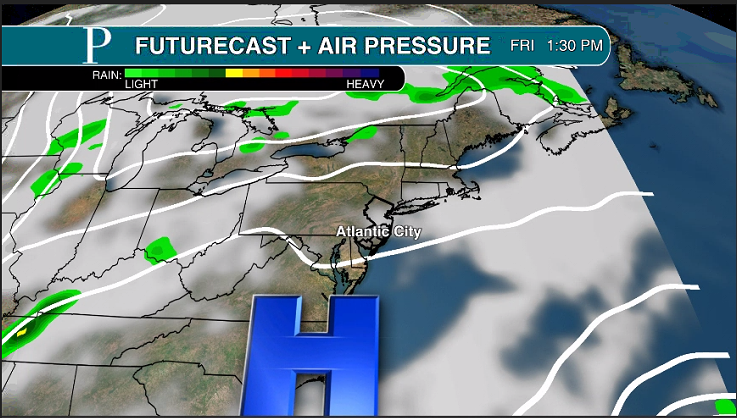 That's part of the story. At the surface, high pressure continues to be centered just to our south. That brings a southwest wind that brings in the warm air and a smidge of humidity.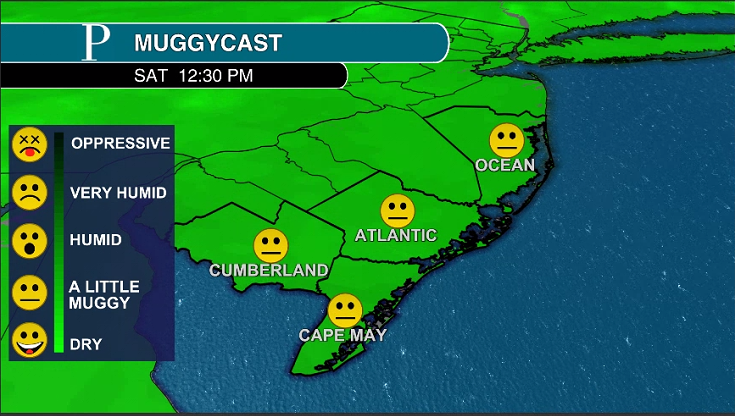 Sunday will show some cracks in this summery, dry armor we have. Morning sun will give way to clouds. Winds will come out of the north.
Still being in the ridge, we won't have a drastic cooldown (yet), but highs will be in the low to mid-70s as opposed to the 80s. No rain is expected. Any and all outdoor plans will be just great.
Monday will be the last bit of truly warm weather for us. Highs will be in the low 70s. We'll have slowly thickening clouds as the day goes on.
Eventually, a pattern-busting cold front will slice through the area. First, it'll bring rain, which will be likely Monday night. Then, it'll bring strong, chilly winds from the northwest, which will be likely for Halloween.
Then comes the chill. Halloween trick-or-treating temperatures will be in the mid-50s during the afternoon, with 40s in the evening.
Press Meteorologist Joe Martucci's 7-Day Forecast
Inland 7-Day Forecast
Shore 7-Day Forecast
Contact Joe Martucci:
609-272-7247
Twitter/X @JoeMartWx