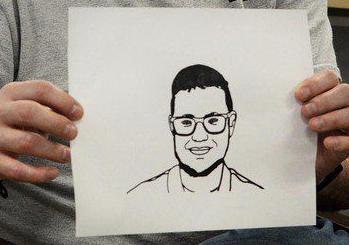 Brian West of Rover Taxi says he is offering a $20,000 reward for information leading to the arrest and conviction of whoever is responsible for the death of taxi driver Dustin Parker.
Parker was shot and killed on a McAlester residential street around 6:30 a.m. on Jan. 1, 2020, while Rover Taxi was offering free rides home to those celebrating the New Year.
McAlester police and the Oklahoma State Bureau of Investigation are continuing to investigate the shooting. No arrests have been made. Anyone with information related to the investigation can contact the OSBI Tip Line at 1-800-522-8017 or can call McAlester police at 918-423-1212.
"You can remain anonymous," said West.
West said he's offering the $20,000 reward because"I feel it's the right thing to do to bring justice for Dustin.
"He was a great person," West said. "This did not need to happen to him."
Rover Taxi is hosting a fundraising spaghetti dinner set from 5 p.m. until 9 p.m. on Saturday, Jan. 25, at the Expo Center. Cost is $7 for adults and $5 for children, with the meal including spaghetti, salad and bread. West said proceeds from the fundraiser will go to the Parker family.
"I'm impressed with the support the community has shown the family and Rover, "West said. "We really appreciate it."
West said every Rover Taxi car will have something in memory of Parker, with plans for his image to be placed on all the vehicles.
"He will always be a part of Rover," West said.
West also wants to let people in the McAlester area know he plans to expand Rover Taxi's service.
"We're going to get four new cars this year," West said. He expects to initially get three new 2020 Model 3 Teslas, with another to follow later. A Tesla 3 has a range of 322 miles when fully charged.
"We're getting three whites and one red one," West said.
The first three are already on order and are currently being built, said West. He's hopeful they will be completed and delivered within a matter of weeks.
West said the Teslas he's ordered will have glass roofs. "It's going to be amazing," he said.
The new vehicles will more than double the size of the current Rover Taxi fleet.
"We had four," West said. "We're down to three." He said the vehicle Parker was driving at the time of the shooting is considered totaled and is no longer in use.
Rover's operating hours are from 7 a.m. until 11 p.m. on Monday through Thursday and from 7 a.m. until 2 a.m. on Friday and Saturday. Rover Taxi has also started providing taxi service from 9 a.m. until 9 p.m on Sunday.
Plans are to begin offering taxi service 24-7 soon after the new Teslas are delivered, said West.
Francis Solar electrical fast-charging systems are in place and fully working at Rover Taxi — which has greatly reduced the amount of time it takes to fully charge an electrically-powered vehicle.
"Fast-chargers can fully charge a car in 15 minutes," West said.
Kenny Hall is manager at Rover Taxi.
"I've had management experience for years, but taxi service is something new to me," he said. "We're taking care of business."
West said he plans to continue with his plan to offer affordable taxi service to McAlester and the surrounding area.
"I just want to make a commitment and show the community we're here," West said. "We're not going anywhere."
Contact James Beaty at jbeaty@mcalesternews.com