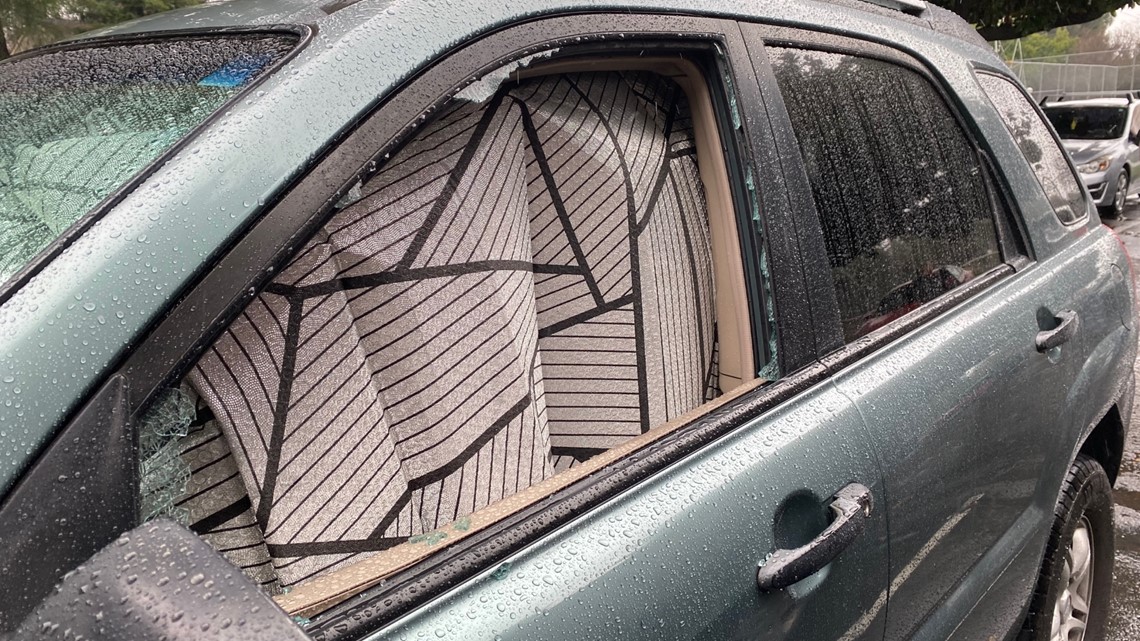 They all happened in the area around the 2300 block of American River Drive.
SACRAMENTO, Calif. — Police are investigating after several dozen vehicles were broken into early Tuesday morning.
According to the Sacramento Police Department, they received reports of car break-ins in the 2300 block of American River Drive, near the American River Commons apartment complex.
Officers found around 47 vehicles in the area with damage along with evidence of the burglaries. Additional detectives responded to the scene and the burglaries are under investigation.
Sacramento police say they also responded to a report of 14 vehicle burglaries in the 7400 block of Brighton Avenue, a few miles west from American River Drive.
Rosio Gonzalez had her car broken into and windows smashed many times in the year. The most recent happened early Tuesday morning.
"I talked to everyone who's car today got smashed; nothing got stolen, we don't leave valuables out," said Gonzalez.
She also mentioned an incident two months ago when 27 cars were broken into.
"My catalytic converter got stolen. Also, not only did they cut it, they actually had the time to unbolt it, meaning that if security were here, if anyone were here, they would see it happen," said Gonzalez.
Rosio says regional management came after the first break in and said this could happen anywhere. They installed security cameras and have security patrols, but residents say it's not enough and they rarely see them.
She started a petition which has over one hundred signatures to gate the property.
"I tried to give it to the office. They said no they don't want (it)," said Rosio.
Residents also asked for a break with the rent, which is due in the next few days, but tenants say they were told no.
Residents are worried about their neighbors out of town, who will come home to soaking wet cars from this week's rain.
Chris Jaracz was trying to create a makeshift window.
"This is actually the third time I've had my car broken into here. My brother's car was stolen from here," said Jaracz.
"Nobody is really ever watching the lots, nobody watching the complex in general. They have security here, but they are never here. They said they just hired a new company recently; there has been no change whatsoever," said Jaracz.
Sacramento Police Department released the following statement.
During the morning hours of 12/27/22, we received numerous reports of vehicle burglaries in the 2300 block of American River Dr. In total, responding officers located 47 vehicles in the area that were damaged and evidence that the vehicles had been burglarized. Additionally, officers responded to a report of 14 vehicle burglaries in the 7400 block of Brighton Ave. Based on the circumstances, crime scene investigators and detectives responded to the scenes to assist in the investigation. Investigators will be working to determine what, if any relation there is between the two crime scenes.
The Sacramento Police Department encourages any witnesses with information regarding this investigation to contact the dispatch center at (916) 808-5471 or Sacramento Valley Crime Stoppers at (916) 443-HELP (4357). Callers can remain anonymous and may be eligible for a reward up to $1,000. Anonymous tips can also be submitted using the free "P3 Tips" smartphone app.
Additionally, we have activated a community evidence portal which can be accessed here. The portal allows community members to submit digital evidence (video files, image files, etc) directly to the Sacramento Police Department.
ABC10 went into the leasing office today and was given a number to contact the corporate owners, but have not heard back.
ABC10: Watch, Download, Read