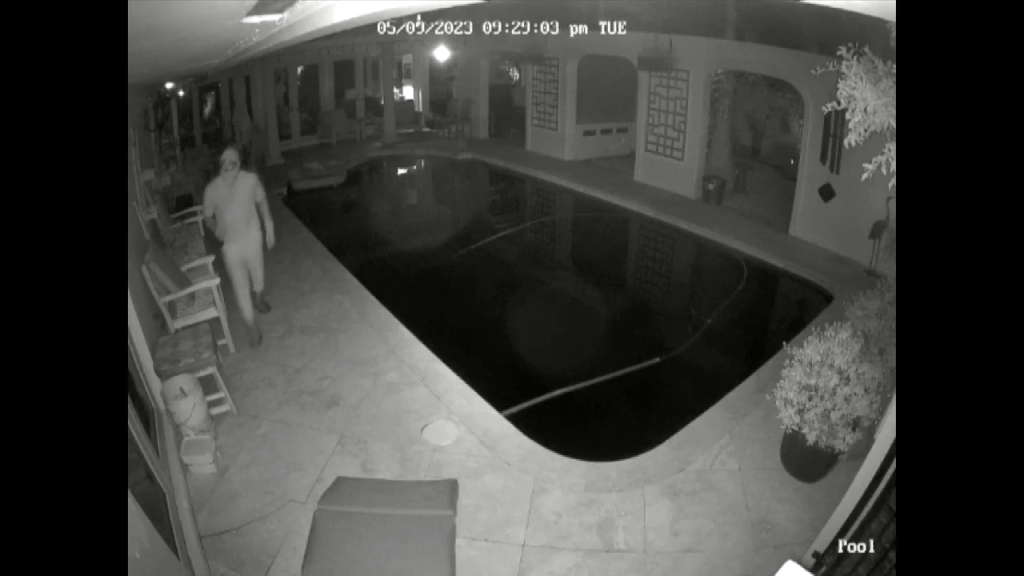 FORT LAUDERDALE, FLA. (WSVN) – A Fort Lauderdale couple hopes police are able to catch the thief who was caught on surveillance video breaking into their home and taking off with valuable family heirlooms.
The security footage captured the subject walking around the pool area of Rosemary and Skip Bown's home moments before he smashed a bedroom door and broke in.
The burglary happened near Bayview Drive and Northeast 47th Street.
The Bowns said they came back to find their place ransacked and their precious heirlooms gone.
"When I saw what they had gotten, it was like just someone punched me in the stomach," Skip said.
A lifetime of memories were gone within minutes.
The theft happened to the Bown's just before Mother's Day.
Skip said he had left their house for the airport and was was going to drop off his wife, who was flying out to California to spend the holiday with their two daughters.
But when he came back, he noticed something was off.
"When I got home at 11:04 p.m., I found that our house had been burglarized," Skip said.
The crook smashed through a door, broke the glass and entered the house.
The main target was Rosemary's closet.
"Stolen all of her jewelry that we had been collecting for our time together, which is 47 years," Skip said, "and I wasn't sure how I was going to call my wife and tell her that our lifetime together that was collected in jewelry was gone."
The masked crook apparently held something in his hand while he walked by the couple's pool and looked inside their windows.
According to police, the crime happened right after that.
The loss was not only material, but very much emotional.
"The jewelry and the items they took, they're tangible; they also invaded our space of safety," Rosemary said. "Everyone likes to think their home is a safe place, and with someone breaking into your home, it's difficult to feel safe again."
The couple had just retired and moved to South Florida from California.
It never crossed their minds that something like this could ever happen.
"I had just, days before this happened, said to my husband, 'We have been very lucky and fortunate when we compare our age group,' I'm 75, with other people in our age group who have, and are now struggling in Fort Lauderdale to find housing, to find things they can afford, and have just put out there in the universe how lucky I felt we were, and then this happened," Rosemary said.
Another part of the surveillance footage caught the subject's face without a mask.
The Bowns are now pleading for help to catch this man.
"I just hope that they can catch this individual, and we would really like to get some closure and get this put behind us, although I don't know that we ever will," Skip said.
At least 65 pieces of jewelry were stolen from the home.
The family said the items were worth more than $100,000.
If you have any information on who this suspect is you are urged to call Fort Lauderdale Police at 954-828-5700 or Broward County Crime Stoppers at 954-493-TIPS. Remember, you can always remain anonymous, and you may be eligible for a reward of up to $5,000.
Copyright 2023 Sunbeam Television Corp. All rights reserved. This material may not be published, broadcast, rewritten or redistributed.