Convicted killer Danelo Cavalcante, 34, was apprehended Wednesday morning in Chester County after a manhunt that lasted nearly two weeks.
Pennsylvania State Police announced Wednesday that officers had captured the "extremely dangerous" prison escapee after he was found in South Coventry Township.
He was apprehended while wearing what appeared to be a Philadelphia Eagles sweatshirt.
Cavalcante's arrest comes after he had reportedly obtained a firearm and, law enforcement officials believed he was corralled in the area of South Coventry Township in Chester County.
He was apprehended around 8 a.m. The moment he was captured, officials announced the arrest over the radio.
A police radio call announced the capture of Danelo Cavalcante after he spent 14 days on the run in Chester County.
Before a morning update, police officials brought Cavalcante, in handcuffs, into the state police barracks in Chester County.
Danelo Cavalcante was walked into a Pennsylvania State Police barracks Wednesday morning after being captured following a 14-day manhunt.
During the update, Pennsylvania State Police Lt. Col. George Bivens said that Cavalcante was apprehended in the morning after teams waited out an overnight storm.
Following his arrest, Sarah Brandão, sister of Deborah Brandão — Cavalcante's ex-girlfriend that he was convicted of killing — said the family was grateful that he had been captured.
"I would like to express my gratitude to everyone who contacted us. We are deeply grateful for the support and hard work developed by the authorities, US police officers over the past few days. Right now, my family and I need to regroup and focus on processing everything that has happened while taking care of ourselves. The last two weeks have been extremely painful and terrifying as they have brought back all the feelings of losing my sister and the idea that the perpetrator could hurt us again. Therefore, I kindly ask that our privacy be respected so that we can collect ourselves and figure out how to overcome this tragic experience," said Sarah Brandão, in a statement.
How the manhunt came to an end
Bivens said around midnight, a burglar alarm went off at a home on Prizer Road, within the search perimeter in South Coventry Township. But, when teams arrived at that property, there was no one to be found.
"But, it did bring some of our people to that area," said Bivens.
With more officers in that area, Bivens said they decided to wait out a storm and, at about 8 a.m., teams surrounded an area where there was a heat source found on thermal imaging.
"Cavalcante did not realize he was surrounded," said Bivens, noting that search teams had the element of surprise.
Once the convicted killer realized police had him surrounded, Bivens said that Cavalcante emerged from a hiding spot where he was laying prone and attempted to flee into thick underbrush, bringing the .22-caliber rifle that he had in his possession with him.
Bivens said officers released Yoda, a K9 and 4-year-old Belgian Malinois, who bit Cavalcante.
Cavalcante was taken to the ground, where he was apprehended, though, he continued to put up a fight.
"He was forcibly taken into custody," said Bivens.
Pennsylvania Governor Josh Shapiro joins State Police for a press conference after escaped inmate Danelo Cavalcante was apprehended Wednesday morning in Chester County after a nearly two-week-long manhunt.
After his arrest, Cavalcante was taken to a state police facility in Avondale.
Several hours later, when Cavalcante was led out of the state police barracks and into a waiting transport vehicle, he was seen shackled and shoeless, wearing a gown.
He was then transported to SCI Phoenix, a maximum-security prison in Montgomery County where he will serve his mandatory life sentence.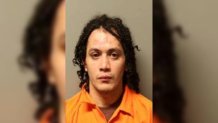 'Sense of relief'
Bivens said that he was glad the arrest was able to occur without gunfire, especially after learning that Cavalcante had obtained a firearm, which increased the level of danger as the search continued.
"To me, the biggest sense of relief is that no one in the community was harmed and no law enforcement officer was hurt either," said Bivens.
In celebrating Cavalcante's apprehension, Pennsylvania Gov. Josh Shapiro thanked the public for their support and patience, while noting the hard work and efforts of law enforcement officials to bring this manhunt to an end without a shot being fired.
Shapiro said the public has now seen "what excellence in law enforcement means."
The governor also offered to replace the Eagles shirt that Cavalcante was wearing when he was captured.
"Whoever had their Eagles hoodie stolen, if you could let us know," said Shapiro. "I'll do my best to try and get you one of those new kelly green ones."
The Chester County community had been on edge since convicted murderer Danelo Cavalcante escaped prison nearly two weeks ago. Now after his capture Wednesday, residents are breathing easier knowing this dangerous man is back behind bars. NBC10's Tim Furlong spoke to residents who are glad the search is finally over.
Two weeks on the run
Cavalcante's capture comes after he had been spotted more than 10 times since his Thursday, Aug. 31, escape from the Chester County Prison in Pocopson Township.
Here's a timeline of Cavalcante's time on the lam.
Monday night the Pennsylvania State Police said they received reports of Cavalcante in the area of South Coventry Township armed with a .22-caliber firearm and alerted residents in that area.
Prior to Monday night, Cavalcante stole a refrigerated White Ford Transit van from Baily's Dairy in West Chester overnight, officials said.
By 2 p.m. Sunday, Bivens said officials had recovered the van. The vehicle was found, Bivens said, behind a barn in East Nantmeal Township at about 10:40 a.m. that day.
Early Sunday, the Upper Providence Township Police Department warned residents in the Phoenixville area that the escaped killer was spotted on a ring camera in East Pikeland Township that morning.
That location was about 25 miles away from where law enforcement officials had set up a search area around Longwood Gardens after he was spotted there earlier in the week.
He had been caught on trail cameras on Longwood Gardens' property on Monday, Sept. 4. Officials said Tuesday, Sept. 5 that the images showed that he had seemingly gathered some supplies during his time on the run as he had a backpack, sling bag and hooded sweatshirt that he didn't have when he left the prison.
Authorities said Cavalcante, was also caught on a residential surveillance camera on Sept. 2 around 12:30 a.m. on the 1800 block of Lenape Road in Pocopson Township, just 1.5 miles from the prison.
At that time, he was wearing pants, a light-colored t-shirt, and white sneakers and his appearance has remained unchanged, according to the Chester County District Attorney's office.
Police released the surveillance footage where Cavalcante could be seen walking through a wooded area.
Police also reported an attempted burglary at 11:30 p.m., Friday, August 31 on the 100 block of Ballintree Lane in Pocopson Township, but have not said if this reported incident was related.
Over the course of the days-long search, law enforcement officials searched railroads, the Brandywine Creek and other possible routes out of Chester County, Chester County DA Deb Ryan said.
Cavalcante is a Brazilian man who fluently speaks Portuguese and Spanish and some English and stands around 5 feet tall and weighs around 120 pounds, officials said.
"This is a very, very, very dangerous man," Clark said while urging people "not to approach Cavalcante."
Also, during the course of the manhunt, law enforcement played a recording of Cavalcante's mother asking him to turn himself in peacefully, law enforcement officials said.
Those who live in Pocopson Township may have heard the recordings in Portuguese being played from police vehicle loudspeakers or from a helicopter.
How did Cavalcante escape prison?
On Wednesday, Sept. 6, the prison's warden Howard Holland shared the video of his escape. He can be seen approaching a small hallway at an outdoor exercise yard with another person. Cavalcante then stretches to span the length of the hallway before working his way sideways up the wall and onto the roof.
They did, however, reveal that it didn't appear that Cavalcante had help in his escape.
Cavalcante escaped using the same method that another man to escape from the Chester County facility back in May — he climbed onto a rooftop and jumped over a parameter fence to freedom.
He was first reported missing around 8:50 a.m. Thursday, Aug. 31, the Chester County District Attorney's Office said.
However, officials didn't know the specific time frame for when the prison noticed Cavalcante was missing.
As soon as the prison learned of the escape they began to take measures to report the escape, officials said.
The Chester County Prison county guard was fired on Sept. 7 after 18 years as a corrections officer, county spokesperson Michelle Bjork said.
According to court records, Cavalcante was convicted of first-degree murder earlier this month of stabbing and killing his ex-girlfriend Deborah Brandao in front of her children in April 2021. He was sentenced to life in prison without the chance for parole just last week.
As a murder convict, Cavalcante was set to be transferred to a state facility in the days ahead.
Ryan said it's normal protocol in Chester County for someone convicted of murder or other serious crimes to remain in the county jail for up to 30 days to allow them time to file a post-sentence motion. "There was no evidence that he was considered a flight risk," Ryan said.
Cavalcante's legal team had just filed a post-sentence motion seeking a new sentence or new trial on Friday, Ryan said.
A $25,000 reward for Danelo Cavalcante's capture
A $25,000 reward was being offered "for any information that leads to the capture of Cavalcante," the DA's office said.
By Friday morning, the DA's office added to the phone numbers tipsters could reach out to:
"If anyone knows or sees anything at all that they suspect may involve this man, please call 9-1-1 or the U.S. Marshal tipline at 1-877-WANTED2 (1-877-926-8332) immediately," the DA's office said.
It is currently unclear if anyone would be eligible for this reward now that Cavalcante has been apprehended.
An attorney who represented Cavalcante in his murder trial did not return a request for comment from NBC10.