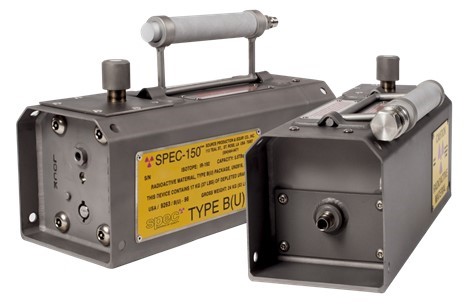 Local and statewide authorities are asking for the public's help in locating a radiographic camera that likely was stolen last week from a Whataburger parking lot in north Houston, with a $3,000 reward being offered for its return.
The camera, which belongs to a Houston-based company and is used for industrial purposes, is not considered a public health risk if it remains undamaged and intact, according to Lara Anton, a spokesperson for the Texas Department of State Health Services (DSHS). The concern, she said, is if someone tries to take the camera apart.
The SPEC-150 camera contains radioactive material that is sealed inside a capsule, which is in turn sealed inside the camera with protective shielding and other safety features, according to DSHS, which said radiation levels outside the camera are not dangerous.
"If they were to get into that shielded chamber where the radioactive material is, I was told they would probably lose their fingers within 30-60 seconds," Anton said. "As long as it stays sealed inside its protective case, it's a very low risk to the public.
"It has radiation symbols on the side," she added. "It should be pretty obvious this is not something you would mess with."
According to the Environmental Protection Agency, industrial radiography cameras use X-ray and gamma radiation to check for flaws that cannot be seen with the naked eye. They are used to inspect metal welding, oil-and-gas pipelines, boilers and aircraft and vehicle parts, among other materials.
The 53-pound camera that went missing Thursday night is owned by Statewide Maintenance Company, which is offering the $3,000 reward for its return, according to Anton. She said workers for the business left the camera in a truck while going inside the Whataburger at 4040 Little York Rd., and the camera was missing when they returned.
Statewide Maintenance Company did not immediately respond to a request for comment Monday.
The Houston Office of Emergency Management is assisting the state health department in the search for the missing camera. Anton said authorities came up empty on Friday, when they used a radiation detector to search within a 5-mile radius from the restaurant, but still believe the camera is in the Houston area.
Anton said the state health department also has contacted pawn shops and scrap metal yards in the region, asking them to be on the lookout for the missing camera. The last time a radiographic camera was unaccounted for in Texas was in 2020, according to Anton, who said that camera was in a truck that flooded and got washed away, with the camera later being found in a river.
If anyone comes across the camera that went missing Thursday night from the Whataburger, they are asked to call 911 or DSHS' 24-hour phone line at 512-458-7460.
"We're hoping the public, if they see it, will give us a call so we can come get it," Anton said.