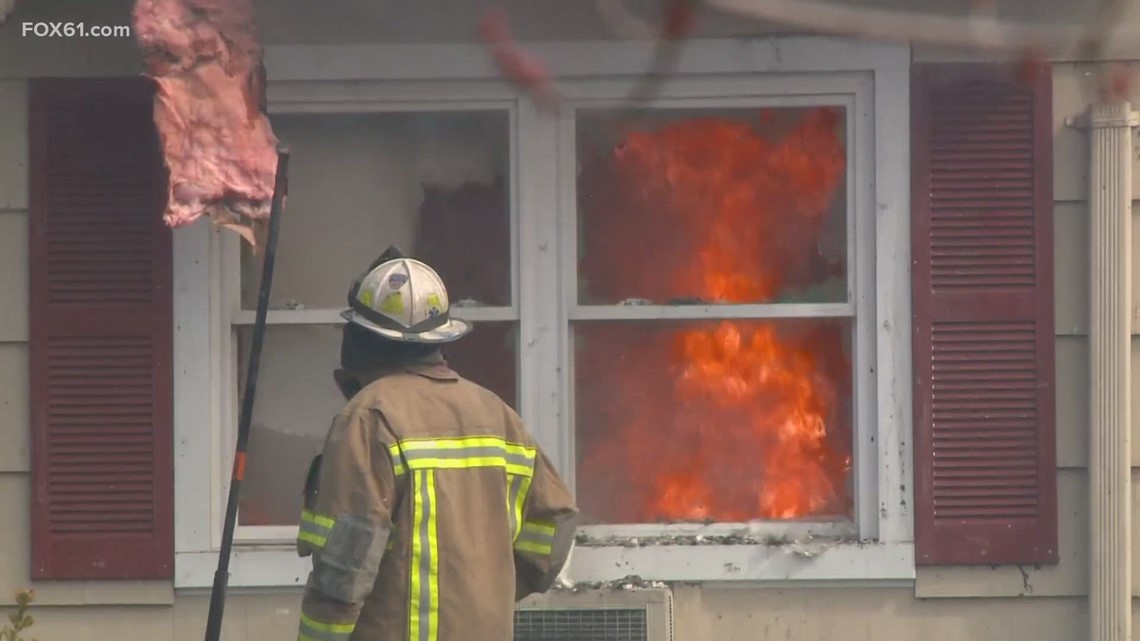 12 adults, nine children, and their pets made it out safely. One firefighter was injured.
NAUGATUCK, Conn. — A Wednesday morning fire at the Lantern Park Drive condominiums in Naugatuck has left seven families without a home. Fire officials said the call came in just after 9 a.m. to 145 Lantern Park Drive and by the time they got there, the fire had spread throughout multiple units.
"We have seven units that are damaged, two that are completely gutted, and three others with extensive fire damage," said Ken Hanks, Deputy Chief with the Naugatuck Fire Department.
By the evening, firefighters deemed the building to be structurally unsafe, and began demolishing all involved units.
"We're hitting hot spots as they're demoing, so we had a lot of hidden fire in the building in those void spaces so that's another reason for the demolition it aids us in opening up those void spaces," said Asst. Chief Walter Seaman.
All 12 adults and nine children made it out safely, along with their pets. One firefighter was injured and sent to the hospital for treatment. Hanks said when it comes to battling the fire, the wind wasn't as much of an issue as the tight space in the complex.
"The nature in the construction of these buildings is that once you get to the attic space, it runs to the end of the building," Hanks said.
The families who were impacted stood outside of their home, trying to let everything sink in.
"It's really tough right now," said Jason Hernandez, lives at Lantern Park Condos.
Hernandez wasn't home at the time of the fire. But when someone called him with the news, he rushed back.
"I start crying, I don't know what to do. This is like our worst fear. You know, we just moved here not even like a month ago. And this is the fear of moving into a condominium, when you don't know, you have no control of, you can only control what's going on in your house," Hernandez said.
Nearly two dozen others who lost their house are feeling the same way.
"I came downstairs to take a look and the whole kitchen was engulfed in flames," said Daniel Rosado, who had just dropped his son off at school, when he came home and the fire broke out shortly after.
Rosado rushed his wife out of the house, and then remembered his dog was still in the basement. He ran back inside to get her.
"She's part of the family, my son, loves her," Rosado said.
Several more dogs were also home at the time of the fire. One dog, 11-year-old Shiva, was rescued by firefighters, after she was stuck in the burning home.
"They didn't know we had a dog so she was in the house for a good hour," said Christy Abbott, her owner.. "On the way home I was just crying, I was panicking, I didn't know what to expect," she said.
Turns out, something her owner did may have saved her life.
"It was fortunate, the dog was in the pen, was in the cage. And there was a blanket over it which probably protected the dog," Hanks said.
Shiva made it out unharmed.
"We couldn't believe it. We were screaming, crying, like everybody was just so ecstatic that she came out of the house and they carried here out in the crate and she was fine. No burns, nothing," Abbott said.
As firefighters worked to save everyone, neighbors were stepping in to help. One woman ran around to surrounding units, and started banging on their doors to get everyone out.
"My adrenaline kicked in and my first thing was, I was in a fire myself, it was just go, do what you can, do what you gotta do, just go," said Jaslin Plaza, who lives at the Lantern Park Condos.
The American Red Cross is now working with the families that have been displaced. They're helping them find temporary housing, offering up some money to help them get by, and providing counseling or anything else they need. All as the families are trying to move forward.
"It'll break somebody down really quick, you know. when you think your life is gunna, you know, you try to make your life as best as possible, and this comes and tears you down. You try to climb three steps, and you get knocked down 5 steps, you know." and it's not fair, but I'm glad my family is alive, and everybody else as well," Hernandez said.
Naugatuck Fire received help from several other departments to battle the fire. The police department responded, along with fire officials from Beacon Falls, Waterbury, Prospect, and Cheshire.
Julia LeBlanc is a reporter at FOX61 News. She can be reached at jleblanc@fox61.com Follow her on Facebook, Twitter and Instagram.
Have a story idea or something on your mind you want to share? We want to hear from you! Email us at newstips@fox61.com
HERE ARE MORE WAYS TO GET FOX61 NEWS
Download the FOX61 News APP
iTunes: Click here to download
Google Play: Click here to download
Stream Live on ROKU: Add the channel from the ROKU store or by searching FOX61.
Steam Live on FIRE TV: Search 'FOX61' and click 'Get' to download.