Saturday, February 1, 2020
---
---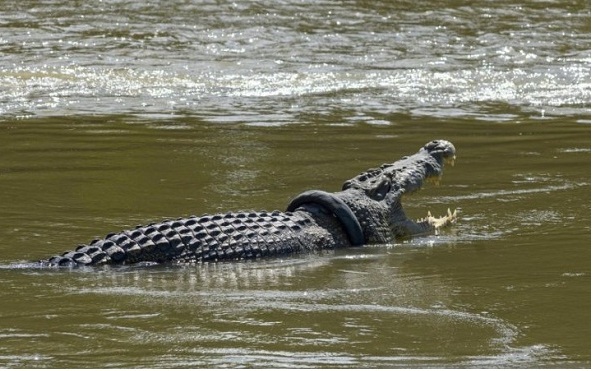 The Office of Natural Resources Conservation of the Indonesian province of Central Sulawesi offers a reward to anyone who can free a wild crocodile, about four meters long, from a motorcycle tire that is stuck around its neck, according to the agency of state news Antara.
The reptile has been carrying the tire since 2016, when it was first seen on the Palu River. The crocodile survived an earthquake and tsunami that hit the region in 2018, but the tire did not move from its neck, according to the head of the Office, Hasmuni Hasmar.
The reptile – which many believe is a Siamese crocodile, an endangered species – continues to grow and is in danger of being mortally strangled.
According to Antara, previously there have been attempts to remove the tire. In January 2018, before the natural disasters, the conservationist and "animal whisper" Muhammad Panji tried to free the animal, and later that year, the Conservation Office tried to attract the animal with meat, but both attempts failed. (Taken from https://actualidad.rt.com)